33' 1984 Custom 33
Southport US
Triton Yacht Sales And Service, LLC.
Sail Diesel 1
$15,000
On Market:
261 days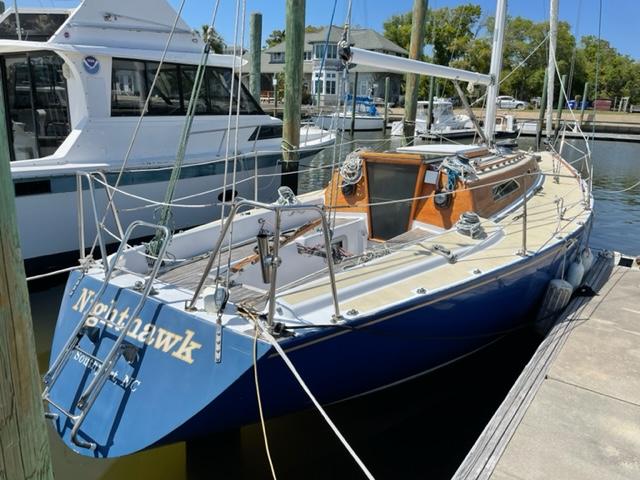 Nighthawk is a custom sloop rigged designed for the Walters Boat Company. She is fast and has beautiful lines with a nice cockpit and beautiful wood detail. She is the type of yacht that will not go un-noticed when she sails into harbor. Current owner is
Purchase More Information
Consult with the Buddha for $19.99. We have additional information available.
Price History
| Price | Date | Status |
| --- | --- | --- |
| ¤0 | 2022-05-09 | New |
| $15,000 | 2022-05-09 | Active |
| $15,000 | 2023-01-26 | Inactive |
Sold Comparables
| Model | Year | Length | Location | Broker | Price | Date | Status | On Market |
| --- | --- | --- | --- | --- | --- | --- | --- | --- |
| Truant 33 Motorsailer | 1984 | 33 | BC, Can | Yacht Sales by David Green | $33,029 | 2018-10-08 | Sold | 152 days |
Inactive Comparables
| Model | Year | Length | Location | Broker | Price | Date | Status | On Market |
| --- | --- | --- | --- | --- | --- | --- | --- | --- |
| 33 | 1984 | 33 | Southport US | Triton Yacht Sales and Service, LLC. | $15,000 | 2023-01-26 | Inactive | 261 days |
| Fortune 30 | 1983 | 33 | Victoria BC Canada | S.A.L.T.S. Sail And Life Training Society | $16,639 | 2020-02-26 | Inactive | 103 days |