19' 2015 Bayliner Deck Boat
Northport US
Long Island Marine Group
Power Gasoline 1
$14,900
On Market:
553 days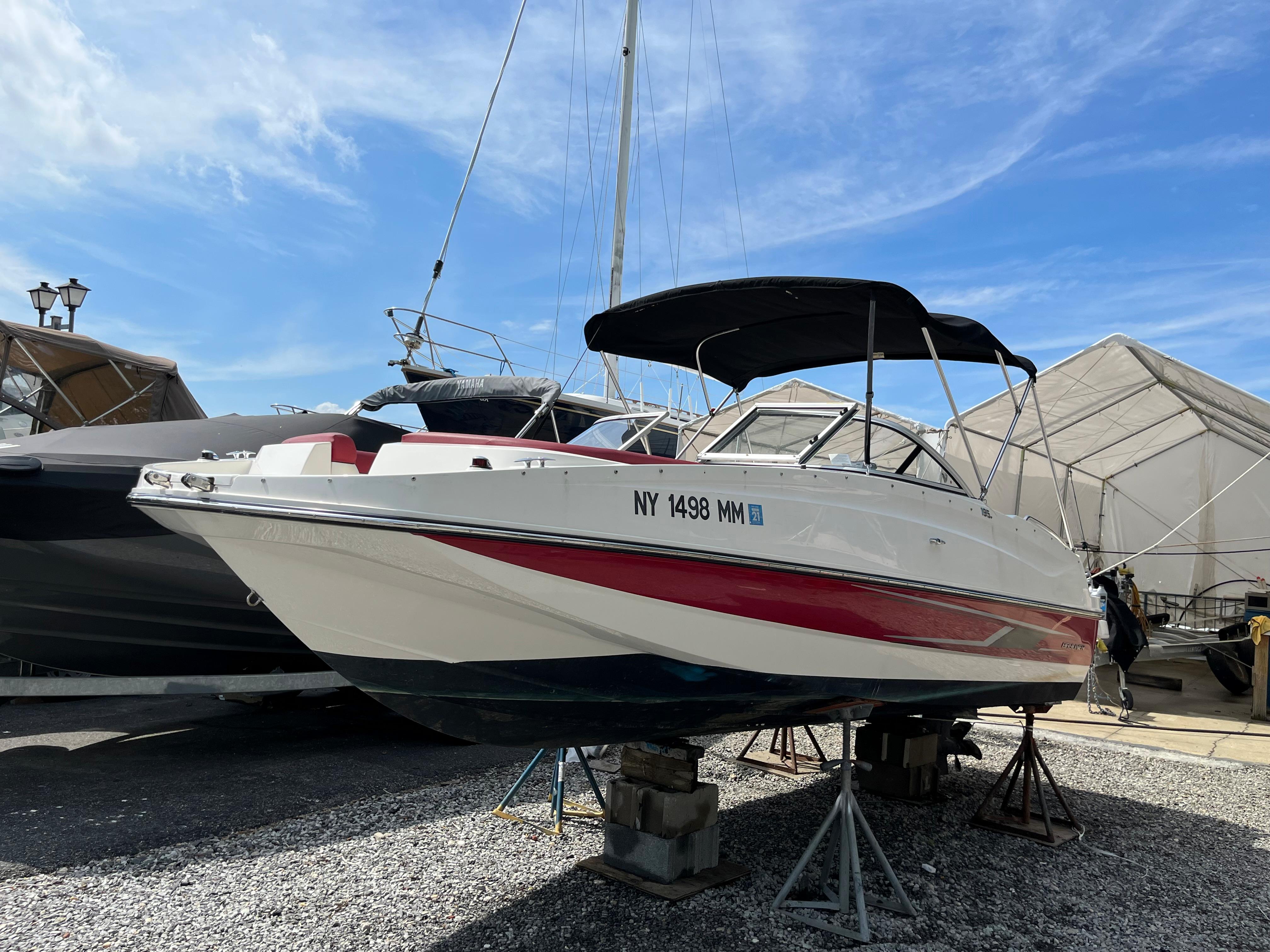 A great family day boat with lots of seating and ready for water sports. It has been lightly used and well taken care of. It just came into the sales lot and should sell fast so don't wait to inquire.
Buddha Value
↘ $14,145
Purchase More Information
Consult with the Buddha for $19.99. We have additional information available.
Price History
| Price | Date | Status |
| --- | --- | --- |
| ¤0 | 2022-06-05 | New |
| $21,900 | 2022-06-05 | Active |
| $19,900 | 2022-07-11 | Reduced |
| $19,900 | 2022-08-11 | Reduced |
| $14,900 | 2023-09-16 | Reduced |
Active Comparables
| Model | Year | Length | Location | Broker | Price | Date | Status | On Market |
| --- | --- | --- | --- | --- | --- | --- | --- | --- |
| 742 Cuddy | 2016 | 19 | Empuriabrava ES | PROBRAVA | $68,000 | 2023-03-10 | Active | 275 days |
| Deck Boat | 2015 | 19 | Northport US | Long Island Marine Group | $14,900 | 2023-09-16 | Reduced | 553 days |
Sold Comparables
| Model | Year | Length | Location | Broker | Price | Date | Status | On Market |
| --- | --- | --- | --- | --- | --- | --- | --- | --- |
| 190 Bowrider | 2015 | 19 | Point Roberts WA United States | Steele-A-Weigh Yacht Sales | $24,000 | 2020-06-11 | Probably Sold | 25 days |
| 190 Deck Boat | 2014 | 19 | Milltown NJ United States | Chesapeake Nautical Cruises, LLC | $13,500 | 2020-06-11 | Probably Sold | 8 days |
| 190 Bowrider | 2015 | 19 | Brick NJ United States | Cast Off Yacht Sales | $19,497 | 2020-05-11 | Probably Sold | 77 days |
| Deck Boat | 2015 | 19 | Northport, NY, United States | Long Island Marine Group | $19,900 | 2019-06-13 | Sold | 62 days |
| 190 Deck Boat | 2015 | 19 | FL, United States | InterMarine | $17,900 | 2018-09-08 | Sold | 61 days |
| 195 Deck Boat | 2015 | 19 | MD, United States | Hawk's Marine | $29,991 | 2018-07-08 | Sold | 149 days |
| Deck Boat | 2015 | 19 | NY, United States | Long Island Marine Group | $24,900 | 2018-07-08 | Sold | 302 days |
| 642 Cuddy | 2015 | 19 | Surrey, United Kingdom | Bates Wharf | $39,260 | 2018-06-08 | Sold | 60 days |
| 185 FLYTE | 2015 | 19 | West Dunbartonshire, United Kingdom | Marine Sales Scotland | $29,575 | 2018-05-08 | Sold | 180 days |
| 195 Bowrider | 2014 | 19 | TN, United States | Erwin Marine | $28,900 | 2018-05-08 | Sold | 606 days |
Inactive Comparables
| Model | Year | Length | Location | Broker | Price | Date | Status | On Market |
| --- | --- | --- | --- | --- | --- | --- | --- | --- |
| 190 Bowrider | 2014 | 19 | Southampton US | Strong's Marine- Southampton | $29,900 | 2023-06-05 | Inactive | 316 days |
| 642 Cuddy | 2016 | 19 | FREJUS France | Alliance SGB Yacht | $32,093 | 2022-02-22 | Inactive | 815 days |
| 195 Bowrider | 2015 | 19 | Tarpon Springs FL United States | Landmark Yacht Sales | $24,990 | 2020-11-18 | Inactive | -0 days |
| 190 Deck Boat | 2014 | 19 | Bayville NJ United States | New Jersey Outboards | $21,995 | 2020-06-16 | Inactive | -0 days |
| Xl | 2016 | 19 | Wilmington NC United States | Off The Hook Yacht Sales | $19,900 | 2020-03-10 | Inactive | -0 days |
| 190 Deck Boat | 2015 | 19 | Port Charlotte, FL, United States | PIER ONE YACHT SALES | $17,500 | 2020-02-19 | Inactive | 180 days |
| 190 Deck Boat | 2015 | 19 | Niceville, FL, United States | Emerald Coast Marine | $21,970 | 2020-02-02 | Inactive | 163 days |
| 195 Db | 2016 | 19 | Grand Haven, MI, United States | SkipperBud's | $33,995 | 2019-12-12 | Inactive | 234 days |
| 195 Bowrider | 2014 | 19 | Chattanooga, TN, United States | Erwin Marine | $24,500 | 2019-11-27 | Inactive | 173 days |
| 190 Deck Boat | 2014 | 19 | Baltimore/Essex, MD, United States | Baltimore Boating Center, LLC | $24,900 | 2019-10-20 | Inactive | 191 days |