27' 1979 Leisure 27
Walton On The Naze GB
Network Yacht Brokers - East Anglia
Sail Diesel 0
£3,995
On Market:
118 days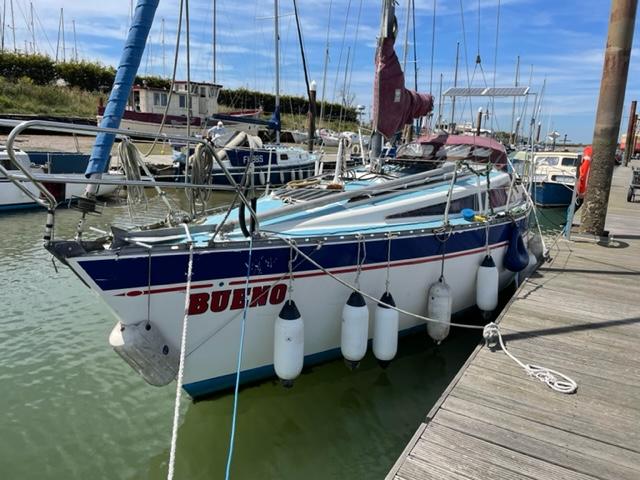 Leisure 27 Sailing Yacht for sale.  Exact build year not known, but believed to be around 1979.  Powered by a Volvo diesel 7hp engine, Fin keel and sloop rig.  The layout features a port and starboard settee berth, the port side will convert to a double b
Purchase More Information
Consult with the Buddha for $9.99. We have additional information available.
Price History
| Price | Date | Status |
| --- | --- | --- |
| ¤0 | 2022-06-23 | New |
| £4,995 | 2022-06-23 | Active |
| £4,995 | 2022-08-07 | Sale Pending |
| £3,995 | 2022-09-10 | Active |
| £3,995 | 2022-10-20 | Inactive |
Sold Comparables
| Model | Year | Length | Location | Broker | Price | Date | Status | On Market |
| --- | --- | --- | --- | --- | --- | --- | --- | --- |
| 27 | 1979 | 27 | Dublin Ireland | Precious Marine | $5,073 | 2021-06-23 | Probably Sold | 314 days |
| 27 | 1978 | 27 | Burnham-on-Crouch, Essex, United Kingdom | Clarke & Carter Interyacht Ltd. | $6,530 | 2020-01-27 | Sold | 291 days |
| 27 | 1979 | 27 | | David Morris Boats | $15,129 | 2019-04-16 | Sold | 35 days |
| 27 | 1979 | 27 | Hampshire, United Kingdom | Buckler's Hard Yacht Brokers | $9,490 | 2018-07-08 | Sold | 60 days |
Inactive Comparables
| Model | Year | Length | Location | Broker | Price | Date | Status | On Market |
| --- | --- | --- | --- | --- | --- | --- | --- | --- |
| 27 | 1979 | 27 | Walton On The Naze GB | Network Yacht Brokers - East Anglia | $3,995 | 2022-10-20 | Inactive | 118 days |
| 27 | 1979 | 27 | Tollesbury E15 United Kingdom | David Morris Boats | $12,681 | 2021-04-10 | Inactive | 211 days |
| 27 | 1978 | 27 | Cardiff, Cardiff, United Kingdom | The Marine Group Boat Sales | $8,726 | 2020-07-05 | Inactive | 451 days |