32' 1990 Carver 32 Flybridge
Racine US
Racine Riverside Marine, Inc.
Power Gasoline 2
$9,900
On Market:
275 days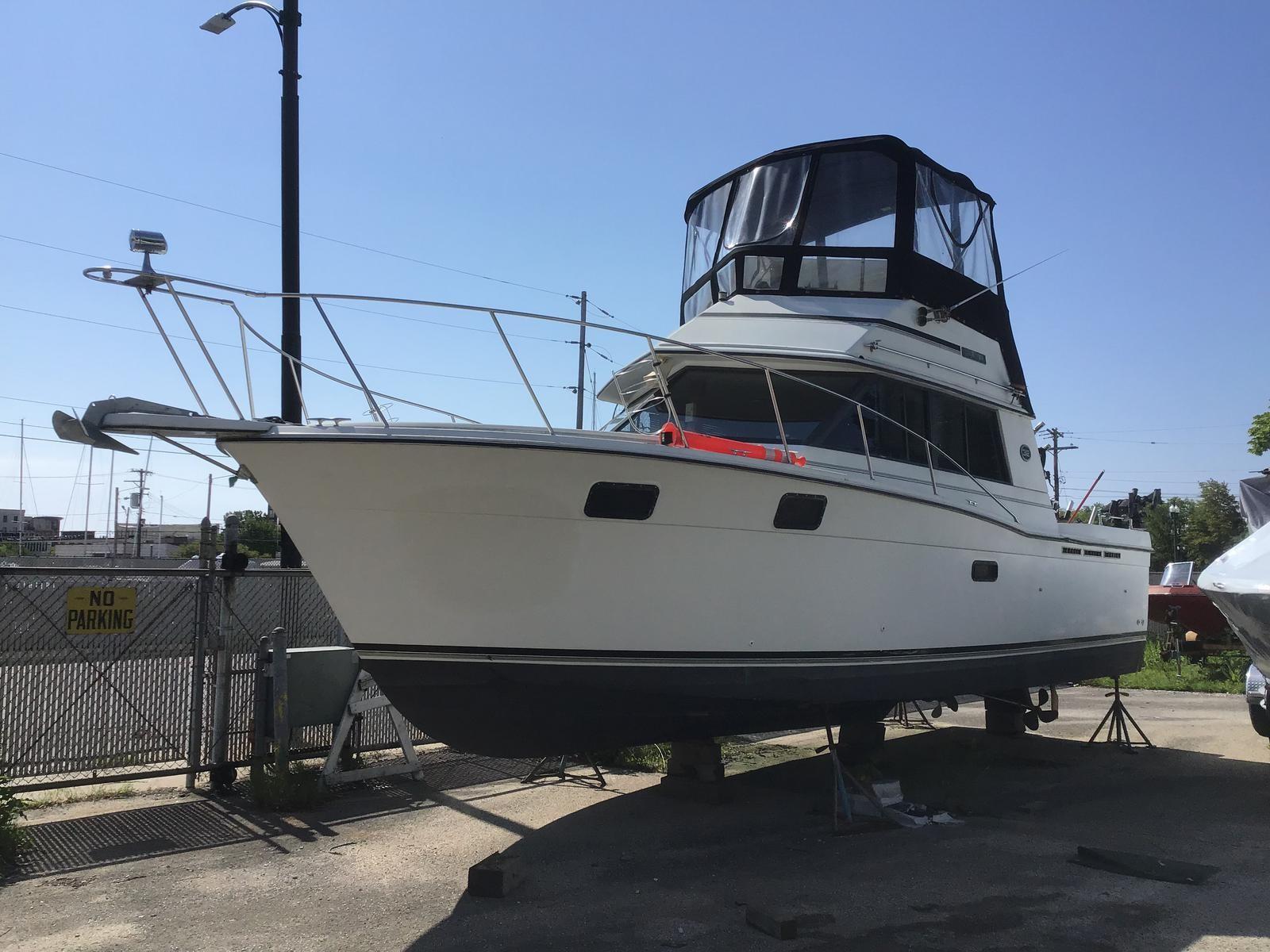 1990 Carver 32 Boat has Twin 5.7 Liter V8 Mercruiser inboard engines VHF Ship to Shore Radio Hummingbird Helix 10" at Helm Flybridge isenglass windows and zippers need replacement,  new windows are $2,800.00 installed from our local canvas shop. Flybr
Buddha Value
↑ $16,277
Purchase More Information
Consult with the Buddha for $9.99. We have additional information available.
Price History
| Price | Date | Status |
| --- | --- | --- |
| ¤0 | 2022-06-24 | New |
| $16,990 | 2022-06-24 | Active |
| $9,900 | 2023-03-13 | Reduced |
Active Comparables
| Model | Year | Length | Location | Broker | Price | Date | Status | On Market |
| --- | --- | --- | --- | --- | --- | --- | --- | --- |
| 3207 AFT CABIN MOTOR YACHT | 1990 | 32 | Saint Clair Shores US | Emerald City Harbor, Inc. | $26,500 | 2022-09-27 | Reduced | 256 days |
| 32 Flybridge | 1990 | 32 | Racine US | Racine Riverside Marine, Inc. | $9,900 | 2023-03-13 | Reduced | 275 days |
Sold Comparables
| Model | Year | Length | Location | Broker | Price | Date | Status | On Market |
| --- | --- | --- | --- | --- | --- | --- | --- | --- |
| Mariner | 1990 | 32 | Stillwater MN United States | Tetzlaff Yacht Sales | $29,900 | 2020-06-30 | Probably Sold | 14 days |
| Aft Cabin | 1989 | 32 | Portland OR United States | Vercoe Yacht Sales | $18,000 | 2020-06-13 | Probably Sold | 79 days |
| 3227 Convertible | 1990 | 32 | La Conner, WA, United States | La Conner Yacht Sales | $35,000 | 2019-11-12 | Sold | 116 days |
| 32 Aft Cabin | 1989 | 32 | Grand Rivers, KY, United States | Green Turtle Bay Yacht Sales | $18,900 | 2019-10-03 | Sold | 174 days |
| Convertible | 1991 | 32 | Olympia, WA, United States | Capital City Yacht Sales | $27,500 | 2019-08-22 | Sold | 122 days |
| 3227 Convertible | 1989 | 32 | Portland, OR, United States | McCuddy's Marina | $15,999 | 2019-08-22 | Sold | 76 days |
| 32 Aft Cabin | 1989 | 32 | Everett, WA, United States | Port Gardner Yacht Brokerage | $36,000 | 2019-08-22 | Sold | 34 days |
| 320 Mariner | 1990 | 32 | New Buffalo, MI, United States | Spring Brook Marina | $29,900 | 2019-08-01 | Sold | 13 days |
| 3157 Montego | 1990 | 32 | San Diego, CA, United States | CFB Marine Group | $19,900 | 2019-07-11 | Sold | 90 days |
| Mariner 3297 | 1989 | 32 | Stillwater, MN, United States | Tetzlaff Yacht Sales | $19,900 | 2019-06-27 | Sold | 76 days |
Inactive Comparables
| Model | Year | Length | Location | Broker | Price | Date | Status | On Market |
| --- | --- | --- | --- | --- | --- | --- | --- | --- |
| 3227 Convertible | 1989 | 32 | Portland US | McCuddy's Marina - Hayden Island Yacht Sales | $24,999 | 2022-10-23 | Inactive | 86 days |
| 32 Montego | 1989 | 32 | Bay City US | SkipperBud's Bay City | $34,995 | 2022-09-03 | Inactive | 175 days |
| 3207 Aft Cabin | 1990 | 32 | Chesterfield US | Temptation Yacht Sales Inc | $36,000 | 2022-06-29 | Inactive | 67 days |
| 32 Mariner | 1989 | 32 | Lorain US | Great Lakes Boats & Brokerage | $27,900 | 2022-06-27 | Inactive | 30 days |
| 32 Convertible | 1990 | 32 | Vermilion OH United States | Great Lakes Boats & Brokerage | $24,900 | 2020-09-10 | Inactive | -0 days |
| Mariner 3297 | 1989 | 32 | Chicago IL United States | Weber Yachts | $25,000 | 2020-08-30 | Inactive | -0 days |
| 3297 Mariner | 1989 | 32 | Midland ON Canada | Crate's Lake Country Boats | $21,403 | 2020-06-05 | Inactive | 54 days |
| 3207 Aft Cabin | 1989 | 32 | Orillia ON Canada | United City Yachts Inc. | $18,441 | 2020-06-04 | Inactive | 56 days |
| Mariner 3297 | 1989 | 32 | Punta Gorda FL United States | PIER ONE YACHT SALES | $25,995 | 2020-05-03 | Inactive | 38 days |
| 3157 Montego | 1990 | 32 | San Diego CA United States | CFB Marine Group | $19,000 | 2020-01-28 | Inactive | -0 days |