44' 2007 Catalina Morgan 440
Palmetto US
Edwards Yacht Sales
Sail Diesel 1
$185,000
On Market:
229 days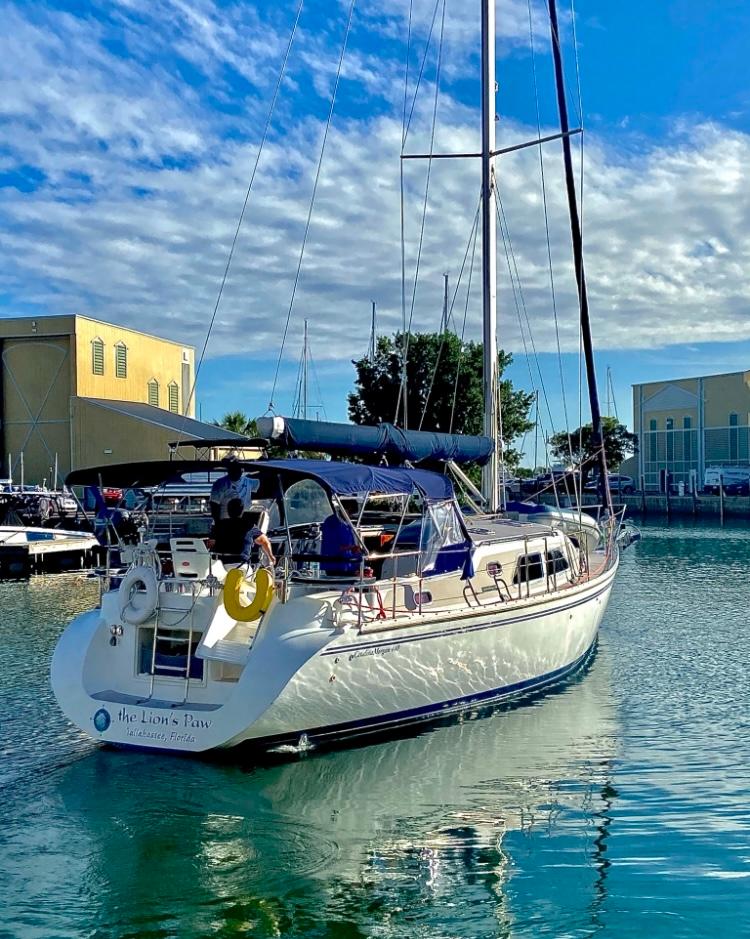 NO HURRICANE DAMAGE.Back on the market,FRESHLY DETAILED...This vessel was held up with a contract that did not go throughout no fault of the boat.  no she has not been on the market for this lengthy time, She has been being sailed. Lion's Paw is ready to
Buddha Value
↗ $205,867
Purchase More Information
Consult with the Buddha for $9.99. We have additional information available.
Price History
| Price | Date | Status |
| --- | --- | --- |
| ¤0 | 2022-08-09 | New |
| $185,000 | 2022-08-09 | Active |
| $185,000 | 2023-03-14 | Sale Pending |
Active Comparables
| Model | Year | Length | Location | Broker | Price | Date | Status | On Market |
| --- | --- | --- | --- | --- | --- | --- | --- | --- |
| Morgan 440 | 2007 | 44 | Fort Pierce US | Florida Coast Yacht Sales | 249000 | 2023-02-03 | Active | 51 days |
| Morgan 440 | 2006 | 44 | Oxnard US | Seacoast Yachts Of Channel Islands | 219500 | 2022-09-21 | Active | 186 days |
| Morgan 440 | 2007 | 44 | Palmetto US | Edwards Yacht Sales | 185000 | 2023-03-14 | Sale Pending | 229 days |
Sold Comparables
| Model | Year | Length | Location | Broker | Price | Date | Status | On Market |
| --- | --- | --- | --- | --- | --- | --- | --- | --- |
| Morgan 440 | 2006 | 44 | Deltaville VA United States | S&J Yachts | 209000 | 2020-11-03 | Probably Sold | 375 days |
| Morgan 44 Ds | 2006 | 44 | Greenport NY United States | Brewer Yacht Sales | 199000 | 2020-09-09 | Probably Sold | 272 days |
| 440 | 2006 | 44 | San Pedro CA United States | Vaughn Allen Yacht Sales, Management & Charter | 219900 | 2020-06-29 | Probably Sold | 248 days |
| Catalina Morgan 440 | 2007 | 44 | Vancouver, BC, Canada | Yacht BC Yacht Sales | 209000 | 2020-02-13 | Sold | 252 days |
| 440 | 2006 | 44 | MI, United States | Holland Yacht Sales | 239000 | 2019-01-08 | Sold | 548 days |
Inactive Comparables
| Model | Year | Length | Location | Broker | Price | Date | Status | On Market |
| --- | --- | --- | --- | --- | --- | --- | --- | --- |
| Morgan 440 | 2007 | 44 | San Diego US | Western Yacht Sales | 214000 | 2023-01-25 | Inactive | 168 days |
| Catalina Morgan 440 | 2007 | 44 | Key West FL United States | Edwards Yacht Sales | 195000 | 2020-09-01 | Inactive | -0 days |
| 440 | 2008 | 44 | Riverside, NJ, United States | G. Winter's Sailing Center | 185000 | 2020-08-09 | Inactive | 486 days |
| 440 | 2006 | 44 | San Pedro CA United States | Catalina Yacht Anchorage | 219900 | 2020-03-19 | Inactive | 146 days |
| Morgan 440 | 2006 | 44 | Oxnard CA United States | Seacoast Yachts | 239500 | 2019-10-24 | Inactive | -0 days |
| Morgan 440 | 2006 | 44 | Channel Islands Harbor, Oxnard, CA, United States | Seacoast Yachts | 249000 | 2019-05-05 | Inactive | 24 days |