33' 1984 Nauticat 33 Motorsailer Ketch
Yarmouth US
Gray & Gray Yachts
Sail Diesel 1
$55,500
On Market:
223 days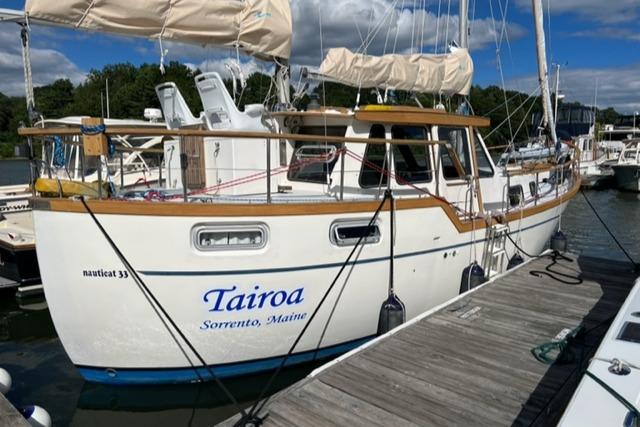 FULL SPECIFICATIONS SOON ** AVAILABLE ON A 3 YEAR LEASE/PURCHASE**  CALL FOR DETAILS   NEW MACK STACK PACK SAILS. NEW CIRCUIT BREAKER PANELS. NEW SOLAR PANELS. HARKEN ROLLER FURLER. ASYMMETRICAL SPINNAKER ON A NEW ROLLER FURLER. A VERY CL
Purchase More Information
Consult with the Buddha for $19.99. We have additional information available.
Price History
| Price | Date | Status |
| --- | --- | --- |
| ¤0 | 2022-09-03 | New |
| $87,500 | 2022-09-03 | Active |
| $87,500 | 2022-12-15 | Sale Pending |
| $55,500 | 2023-03-14 | Active |
| $55,500 | 2023-04-15 | Inactive |
Sold Comparables
| Model | Year | Length | Location | Broker | Price | Date | Status | On Market |
| --- | --- | --- | --- | --- | --- | --- | --- | --- |
| 33 Ketch | 1985 | 33 | Iroquois CA | Harris & Ellis Yachts | $110,000 | 2022-10-08 | Probably Sold | 184 days |
| 33 | 1983 | 33 | Rock Hall, MD, United States | Salt Yacht Brokerage Company | $59,500 | 2019-09-18 | Sold | 135 days |
| 33 Pilothouse | 1985 | 33 | QC, Can | Boulet Lemelin Yacht | $95,963 | 2018-07-08 | Sold | 211 days |
| 33 Fin Keel | 1985 | 33 | WA, United States | Marine Servicenter - Seattle | $109,000 | 2018-06-08 | Sold | 515 days |
Inactive Comparables
| Model | Year | Length | Location | Broker | Price | Date | Status | On Market |
| --- | --- | --- | --- | --- | --- | --- | --- | --- |
| 33 | 1983 | 33 | Vallejo US | Seattle Yachts - Alameda | $90,000 | 2023-07-24 | Inactive | 194 days |
| 33 Motorsailer Ketch | 1984 | 33 | Yarmouth US | Gray & Gray Yachts | $55,500 | 2023-04-15 | Inactive | 223 days |
| 33 | 1983 | 33 | Torrevieja, Spain | Boats & Barcos Mediterráneos SL | $71,113 | 2022-02-21 | Inactive | 984 days |
| Motorsailor Fin Keel | 1985 | 33 | Anacortes, WA, United States | Marine Servicenter - Seattle | $69,900 | 2020-07-01 | Inactive | 447 days |
| 33 | 1985 | 33 | Demopolis AL United States | A & M Yacht Sales, Inc | $48,900 | 2020-05-13 | Inactive | -0 days |
| 33 | 1985 | 33 | Â Â Gananoque, ON, Can | United City Yachts Inc. | $75,924 | 2020-01-10 | Inactive | 304 days |
| 33 | 1983 | 33 | Costa Blanca, Spain | Navicularia Yacht Brokers | $72,677 | 2019-12-13 | Inactive | 246 days |
| 33 | 1985 | 33 | Demopolis, Oman | A & M Yacht Sales, Inc | $48,900 | 2019-08-21 | Inactive | 132 days |
| 33 | 1984 | 33 | Scappoose, OR, United States | McCuddy's Marina | $69,999 | 2019-08-21 | Inactive | 132 days |
| 33 | 1985 | 33 | Barron, WI, United States | Barker's Island Marina | $82,500 | 2019-04-10 | Inactive | -0 days |