26' 2011 Sea Ray 260 Sundeck
Larchmont US
EdgeWater Pointe Yachts
Power Gasoline 1
$39,000
On Market:
451 days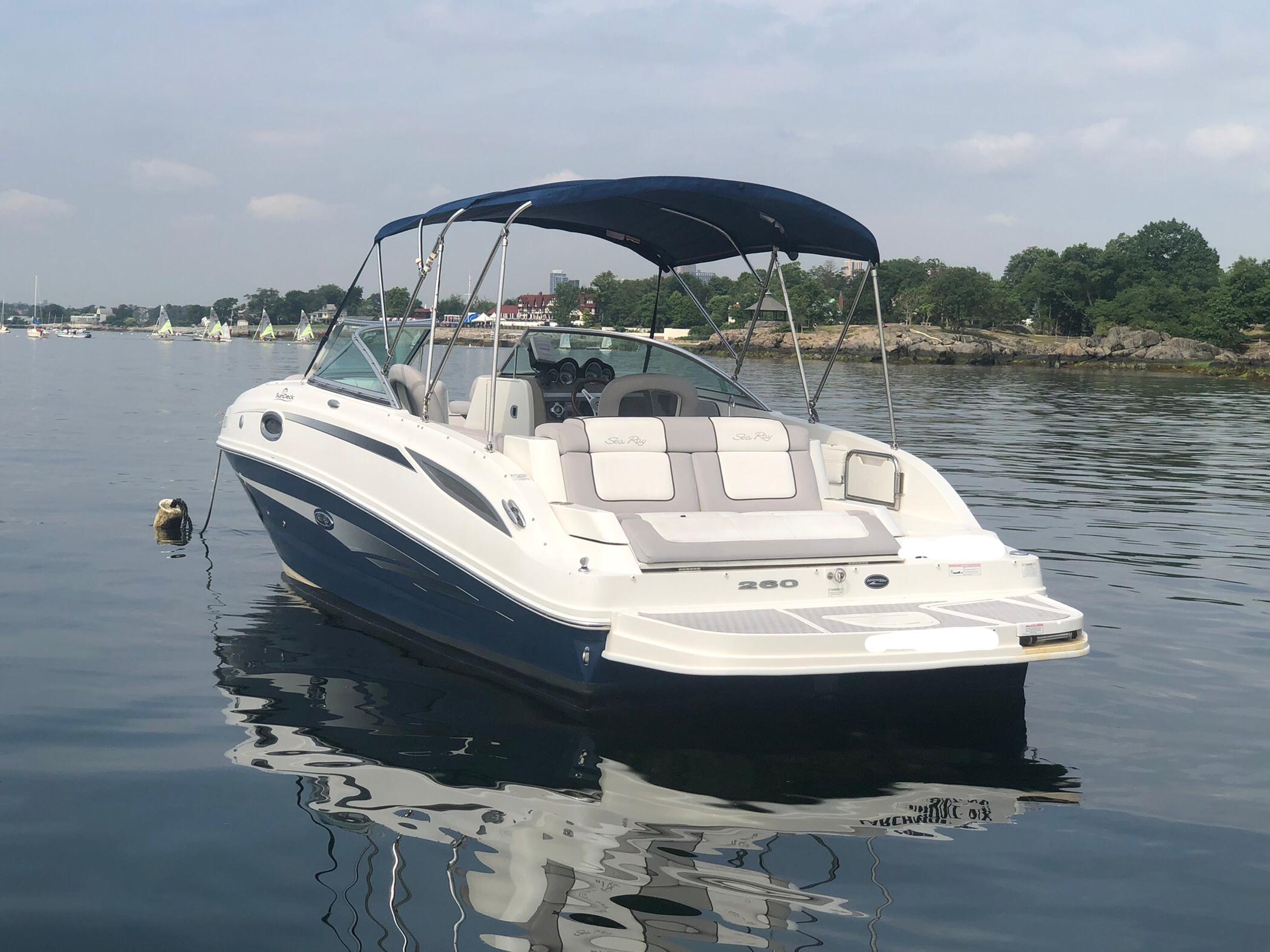 This is an excellent example of a well maintained Sea Ray 260 Sundeck. Boarding is easy from the swim ladder to the oversized swim platform. As you pass through the transom door you will enter the well-designed cockpit on this 260. The engine is easily
Buddha Value
→ $38,917
Purchase More Information
Consult with the Buddha for $19.99. We have additional information available.
Price History
| Price | Date | Status |
| --- | --- | --- |
| ¤0 | 2022-09-14 | New |
| $49,500 | 2022-09-14 | Active |
| $45,000 | 2023-06-17 | Reduced |
| $39,000 | 2023-09-18 | Reduced |
Active Comparables
| Model | Year | Length | Location | Broker | Price | Date | Status | On Market |
| --- | --- | --- | --- | --- | --- | --- | --- | --- |
| 260 Sundancer | 2011 | 26 | Halifax CA | North44 Yacht Sales | $79,995 | 2023-08-28 | Reduced | 247 days |
| 260 Sundeck | 2011 | 26 | Holland US | Starboard Yachts, Inc. | $74,900 | 2022-08-02 | Active | 494 days |
| 260 Sundancer | 2012 | 26 | Babylon US | Riteway Marine Solutions | $72,900 | 2023-07-28 | Reduced | 171 days |
| 260 Sundeck | 2012 | 26 | Marblehead US | SkipperBud's Marina Del Isle | $66,500 | 2023-01-14 | Active | 329 days |
| 260 Sundancer | 2011 | 26 | Port Clinton US | Catawba Moorings | $59,900 | 2023-08-28 | Reduced | 141 days |
| 255 Sundancer | 2012 | 26 | Croatia HR | AVENTURA Boats | $59,000 | 2023-08-27 | Reduced | 473 days |
| 260 Sundeck | 2012 | 26 | Ship Bottom US | MarineMax Ship Bottom | $54,900 | 2023-07-03 | Active | 159 days |
| 260 Sundeck | 2012 | 26 | Daytona Beach US | Dick Boger Yacht Sales | $54,900 | 2023-07-12 | Active | 150 days |
| 260 Sundancer | 2011 | 26 | Miami US | Florida Yachts International | $50,000 | 2023-07-14 | Active | 148 days |
| 260 Sundeck | 2011 | 26 | Tampa US | Tampa Yacht Sales, INC | $49,900 | 2023-02-17 | Active | 295 days |
Sold Comparables
| Model | Year | Length | Location | Broker | Price | Date | Status | On Market |
| --- | --- | --- | --- | --- | --- | --- | --- | --- |
| 260 Sundancer | 2011 | 26 | US | MarineMax Brick | $54,900 | 2022-11-16 | Probably Sold | 147 days |
| 260 Sundeck | 2011 | 26 | Pittsburgh US | Fox Chapel Marine | $65,900 | 2022-07-08 | Probably Sold | 62 days |
| 260 Sundancer | 2011 | 26 | Diamondhead MS United States | Whelton Marine Brokerage | $54,900 | 2021-04-30 | Probably Sold | 210 days |
| 260 Sundeck | 2011 | 26 | Essex MD United States | Baltimore Boating Center, LLC | $54,900 | 2021-03-01 | Probably Sold | 145 days |
| 260 Sundancer | 2010 | 26 | Woodbridge VA United States | Prince William Marina | $65,900 | 2021-02-24 | Probably Sold | 11 days |
| 260 Sundancer | 2010 | 26 | East Islip NY United States | Yacht Finders | $57,999 | 2021-01-29 | Probably Sold | 127 days |
| 260 Sundeck | 2010 | 26 | Counce TN United States | Captain's Choice of Pickwick | $52,500 | 2020-10-13 | Probably Sold | 66 days |
| 260 Sundeck | 2012 | 26 | Port Clinton OH United States | MarineMax Inc. | $68,500 | 2020-09-09 | Probably Sold | 28 days |
| 260 Sundeck | 2011 | 26 | Rowayton CT United States | All Seasons Marine Works, Inc | $39,800 | 2020-08-24 | Probably Sold | 4 days |
| Sundancer 260 | 2011 | 26 | Mystic, CT, United States | Rudders & Moorings Yacht Sales, LLC | $59,500 | 2020-08-15 | Probably Sold | 351 days |
Inactive Comparables
| Model | Year | Length | Location | Broker | Price | Date | Status | On Market |
| --- | --- | --- | --- | --- | --- | --- | --- | --- |
| 260 Sundeck | 2012 | 26 | Clearwater US | Quality Boats Clearwater | $39,900 | 2023-08-03 | Inactive | 117 days |
| 260 Sundeck | 2010 | 26 | Sturgeon Bay US | SkipperBud's Sturgeon Bay | $44,995 | 2023-08-03 | Inactive | 80 days |
| 260 Sundancer | 2011 | 26 | Miami US | Florida Yachts International | $50,000 | 2023-07-28 | Inactive | 245 days |
| 260 Sundeck | 2012 | 26 | Algonac US | Walstrom Marine Harbor Springs | $54,900 | 2023-07-26 | Inactive | 124 days |
| 250 SLX | 2011 | 26 | Long Boat Key US | All Captains Yacht Sales | $54,999 | 2023-07-24 | Inactive | 264 days |
| 260 Sundeck | 2012 | 26 | US | MarineMax Cumming | $54,900 | 2023-07-23 | Inactive | 65 days |
| 260 Sundancer | 2011 | 26 | Saugatuck US | Tower Marine Boat Sales | $59,900 | 2023-07-09 | Inactive | 116 days |
| 255 DAE Sundancer | 2010 | 26 | Mar Ligure IT | Marina Yacht Sales srl | $46,000 | 2023-07-09 | Inactive | 101 days |
| 260 Sundeck | 2012 | 26 | Lewisville US | MarineMax Dallas | $59,900 | 2023-06-06 | Inactive | 79 days |
| 260 Sundeck | 2012 | 26 | Mallorca ES | Marine Unlimited | $49,950 | 2023-05-19 | Inactive | 247 days |