49' 2001 Grand Banks 49 Eastbay HX
Woodbridge US
Knot 10 Yacht Sales
Power Diesel 2
$325,000
On Market:
449 days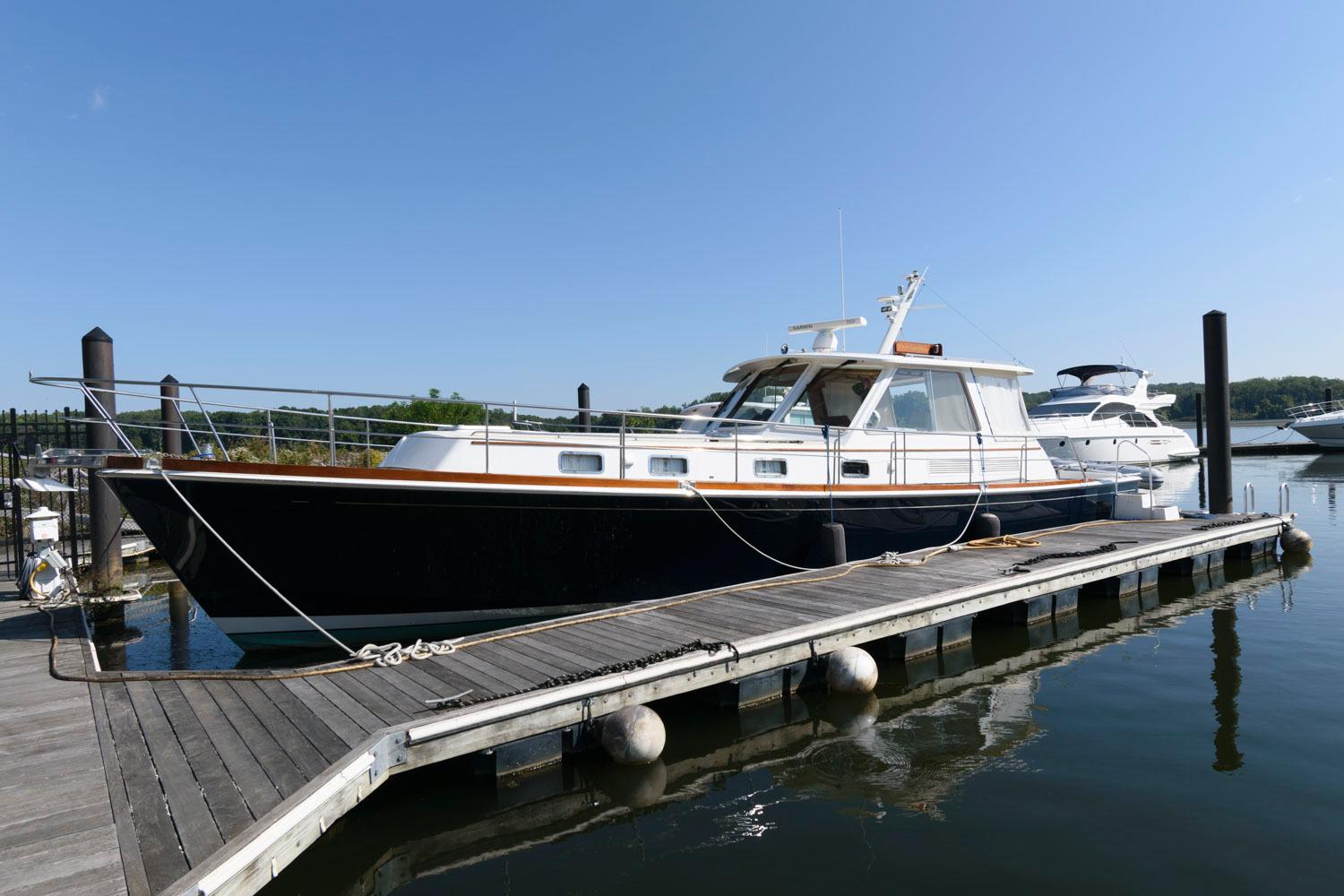 Sellers Said Sell This One Now. By Far The Best Buying Opportunity On A 49 Eastbay You Will Find....... This 49 Eastbay HX Is Ready To Go And Has A Seller Who's Plans Have Changed And Is Looking To Be The Next One Sold. Full Teak, Twin Stidd Helm Chairs,
Buddha Value
↘ $302,686
Purchase More Information
Consult with the Buddha for $19.99. We have additional information available.
Price History
| Price | Date | Status |
| --- | --- | --- |
| ¤0 | 2022-09-17 | New |
| $435,000 | 2022-09-17 | Active |
| $430,000 | 2022-12-27 | Reduced |
| $398,000 | 2023-02-17 | Reduced |
| $325,000 | 2023-08-09 | Reduced |
| $325,000 | 2023-09-18 | Sale Pending |
Active Comparables
| Model | Year | Length | Location | Broker | Price | Date | Status | On Market |
| --- | --- | --- | --- | --- | --- | --- | --- | --- |
| 49 Eastbay HX | 2001 | 49 | Palma De Mallorca ES | Yateocasion.com | $499,000 | 2023-01-28 | Reduced | 467 days |
| Eastbay 49 HX #48 | 2002 | 49 | New Castle US | Walczak Yacht Brokerage Service | $449,000 | 2023-09-26 | Reduced | 229 days |
| 49 Eastbay HX | 2001 | 49 | Woodbridge US | Knot 10 Yacht Sales | $325,000 | 2023-09-18 | Sale Pending | 449 days |
Sold Comparables
| Model | Year | Length | Location | Broker | Price | Date | Status | On Market |
| --- | --- | --- | --- | --- | --- | --- | --- | --- |
| 49 Eastbay Hx | 2000 | 49 | Anacortes WA United States | Crow's Nest Yachts | $449,000 | 2021-06-14 | Probably Sold | 333 days |
| Eastbay 49 Hx | 2000 | 49 | Newport Beach, CA, United States | Scott B. Jones Yacht & Ship Brokers Int'l | $350,000 | 2019-10-09 | Sold | 181 days |
| 49 Eastbay Hx | 2001 | 49 | Severna Park, MD, United States | Frank Gordon Yacht Sales | $440,000 | 2019-06-05 | Sold | 55 days |
| 49 Eastbay HX | 2002 | 49 | FL, United States | Denison Yachting | $378,000 | 2018-10-08 | Sold | 213 days |
| 49 Eastbay HX | 2000 | 49 | CA, United States | California Coast Yachts, LLC | $369,000 | 2018-07-08 | Sold | 121 days |
Inactive Comparables
| Model | Year | Length | Location | Broker | Price | Date | Status | On Market |
| --- | --- | --- | --- | --- | --- | --- | --- | --- |
| Eastbay 49 HX | 2002 | 49 | Kittery US | Walczak Yacht Brokerage Service | $475,000 | 2023-05-01 | Inactive | 96 days |
| Eastbay 49 HX | 2002 | 49 | New Castle US | Walczak Yacht Brokerage Service | $495,000 | 2022-10-24 | Inactive | 76 days |
| Eastbay 49 HX | 2002 | 49 | New Castle US | Walczak Yacht Brokerage Service | $495,000 | 2022-08-31 | Inactive | 32 days |
| Eastbay 49 HX | 2002 | 49 | New Castle US | Walczak Yacht Brokerage Service | $525,000 | 2022-07-13 | Inactive | 30 days |
| Eastbay 49 HX | 2002 | 49 | Eliot US | Walczak Yacht Brokerage Service | $525,000 | 2022-06-06 | Inactive | 31 days |
| Eastbay 49 HX | 2002 | 49 | Eliot US | Walczak Yacht Brokerage Service | $525,000 | 2022-05-08 | Inactive | 29 days |
| 49 Eastbay Hx | 2000 | 49 | Fort Lauderdale, FL, United States | Allied Marine | $379,000 | 2021-01-04 | Inactive | 501 days |
| Eastbay 49 Hx - Original Owner Boat! | 2001 | 49 | En Route To Palm Beach FL United States | Blue Island Yachts | $439,500 | 2020-08-21 | Inactive | 97 days |
| 49 Eastbay | 2000 | 49 | Annapolis MD United States | Bluewater Yacht Sales | $460,000 | 2020-05-10 | Inactive | -0 days |
| 49 Eastbay Hx | 2002 | 49 | Jacksonville, FL, United States | Grand Banks Yachts, LTD | $469,500 | 2019-07-24 | Inactive | 104 days |