34' 2000 Pursuit 3400 Express
Yarmouth US
Thomas Yacht
Power Gasoline 2
$59,500
On Market:
443 days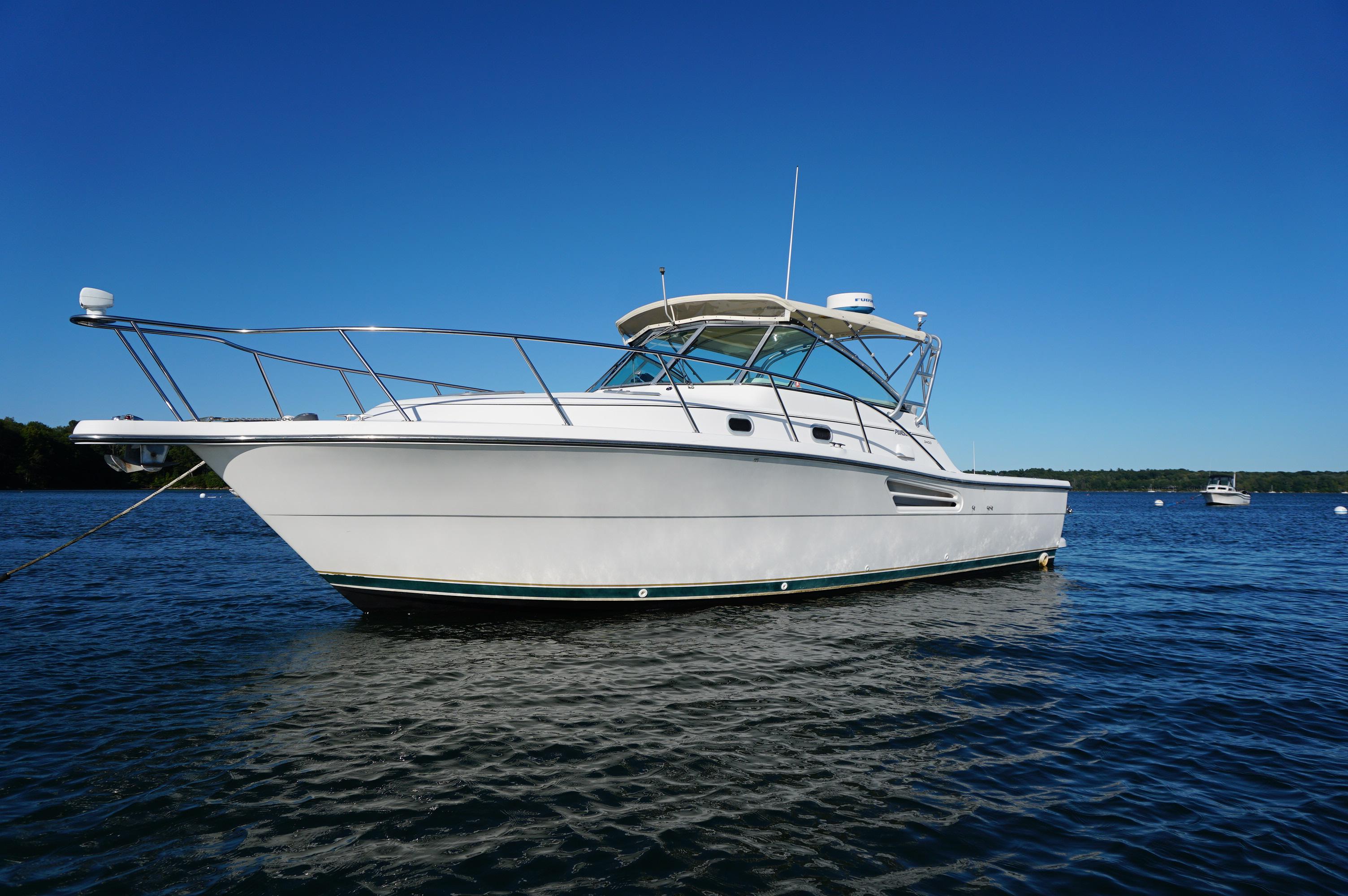 The 3400 Pursuit is a model that was built at the Tiara plant, sharing more "Tiara" features than Pursuit. This is one fun boat, the cockpit and helm area are extremely spacious, plenty of room for family and friends! Below deck is spacious as well, with
Buddha Value
↗ $71,979
Purchase More Information
Consult with the Buddha for $19.99. We have additional information available.
Price History
| Price | Date | Status |
| --- | --- | --- |
| ¤0 | 2022-09-23 | New |
| $125,000 | 2022-09-23 | Active |
| $119,000 | 2023-03-25 | Reduced |
| $99,500 | 2023-07-25 | Reduced |
| $59,500 | 2023-09-21 | Reduced |
Active Comparables
| Model | Year | Length | Location | Broker | Price | Date | Status | On Market |
| --- | --- | --- | --- | --- | --- | --- | --- | --- |
| 3400 Express | 1999 | 34 | Staten Island US | Allegiance Yachts | 114500 | 2023-08-08 | Active | 124 days |
| 3400 Express | 2000 | 34 | Yarmouth US | Thomas Yacht | 59500 | 2023-09-21 | Reduced | 443 days |
Sold Comparables
| Model | Year | Length | Location | Broker | Price | Date | Status | On Market |
| --- | --- | --- | --- | --- | --- | --- | --- | --- |
| 3400 Express | 2001 | 34 | MI, United States | Temptation Yacht Sales, Inc | 109000 | 2019-03-08 | Sold | 180 days |
| 3400 Express | 2001 | 34 | FL, United States | Revolution Yacht Group | 99500 | 2019-03-08 | Sold | 180 days |
| 3400 Express | 2000 | 34 | MA, United States | South Shore Dry Dock Marine, Inc. | 104999 | 2018-08-08 | Sold | 211 days |
| 3400 Offshore | 1999 | 34 | FL, United States | H2O Yacht Sales | 109000 | 2018-08-08 | Sold | 272 days |
| 3400 Express | 1999 | 34 | NY, United States | Spellmans Marine | 79900 | 2018-07-08 | Sold | 606 days |
| 3400 Express | 1999 | 34 | MA, United States | American Marine & Boat Sales, Inc. | 68000 | 2018-07-08 | Sold | 60 days |
| 3500 Offshore | 2001 | 34 | CT, United States | Jensen Yacht Sales | 109900 | 2018-05-08 | Sold | 119 days |
| 3400 Express | 2001 | 34 | FL, United States | Gilman Yachts of Fort Lauderdale | 59000 | 2018-02-08 | Sold | 183 days |
Inactive Comparables
| Model | Year | Length | Location | Broker | Price | Date | Status | On Market |
| --- | --- | --- | --- | --- | --- | --- | --- | --- |
| 3400 Pursuit | 2000 | 34 | Sturgeon Bay US | Weber Yachts | 159000 | 2023-09-06 | Inactive | 124 days |
| 3400 Offshore | 2000 | 34 | Clinton US | Cedar Island Marina | 164900 | 2023-07-11 | Inactive | 297 days |
| 3400 Express | 2000 | 34 | Oceanport US | Red Line Marine Liquidators, Inc | 149000 | 2023-07-01 | Inactive | 496 days |
| 3400 Express | 2001 | 34 | Sausalito US | Oceanic Yacht Sales | 159000 | 2022-11-07 | Inactive | 198 days |
| 3400 Express | 2000 | 34 | Anacortes US | Irwin Yacht Sales - Anacortes | 139900 | 2022-05-24 | Inactive | 47 days |
| 3400 Express | 2000 | 34 | Anacortes WA United States | West Yachts LLC | 119000 | 2022-02-18 | Inactive | 830 days |
| 3400 Offshore | 2000 | 34 | Noank CT United States | Offshore Marine Services, Ltd. | 139900 | 2020-09-16 | Inactive | -0 days |
| 3400 Express | 2000 | 34 | Winthrop Harbor IL United States | SkipperBud's | 125000 | 2020-09-10 | Inactive | -0 days |
| 3400 Express | 2001 | 34 | Johns Island, SC, United States | Knot 10 Yacht Sales | 135000 | 2020-07-16 | Inactive | 385 days |
| 3400 Offshore | 2001 | 34 | Palm City FL United States | Brightwater Yacht Brokers Inc. | 119990 | 2020-04-15 | Inactive | 51 days |