35' 2007 Jeanneau Sun Odyssey 36i
Whitehaven GB
Maiden Marine
Sail Diesel 1
£69,950
On Market:
424 days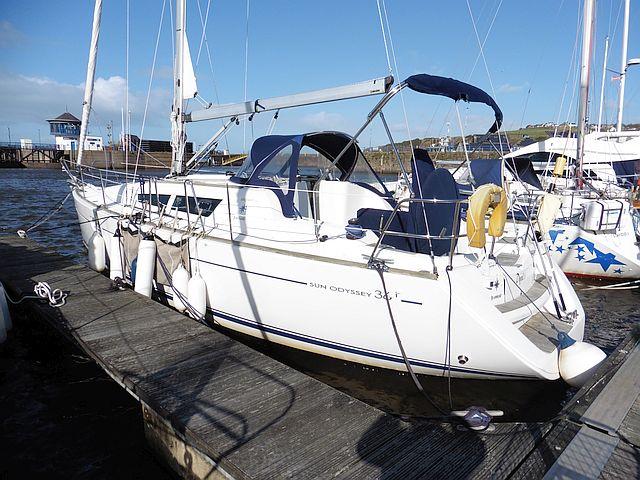 Jeanneau Sun Odyssey 36i. A wonderful opportunity to acquire a vessel that is in pristine condition for its year and type and one that has been exceptionally well maintained. Dyvlin is the much preferred owner's version with the single aft cabin and the l
Buddha Value
↘ $76,629
Purchase More Information
Consult with the Buddha for $19.99. We have additional information available.
Price History
| Price | Date | Status |
| --- | --- | --- |
| ¤0 | 2022-10-11 | New |
| £69,950 | 2022-10-11 | Active |
| £69,950 | 2023-09-20 | Sale Pending |
Active Comparables
| Model | Year | Length | Location | Broker | Price | Date | Status | On Market |
| --- | --- | --- | --- | --- | --- | --- | --- | --- |
| Sun Fast 35 | 2006 | 35 | Boston US | Bluenose Yacht Sales & Quality Brokerage - Boston | $94,800 | 2023-05-19 | Reduced | 316 days |
| Sun Odyssey 36i | 2006 | 35 | Stavoren NL | Nautisch Kwartier Stavoren | $94,500 | 2023-09-20 | Sale Pending | 200 days |
| SUN ODYSSEY 36 I | 2008 | 35 | Golfe-Juan FR | Star Yachting | $75,900 | 2023-08-08 | Active | 123 days |
| Sun Odyssey 36i | 2007 | 35 | Whitehaven GB | Maiden Marine | $69,950 | 2023-09-20 | Sale Pending | 424 days |
| Sun Odyssey 35 Legend | 2006 | 35 | Roma IT | TYB Team | $69,000 | 2023-09-22 | Reduced | 177 days |
| Sun Odyssey 36i | 2008 | 35 | Le Marin MQ | A&C Yacht Brokers | $62,000 | 2023-05-05 | Reduced | 562 days |
Sold Comparables
| Model | Year | Length | Location | Broker | Price | Date | Status | On Market |
| --- | --- | --- | --- | --- | --- | --- | --- | --- |
| Sun Odyssey 35 | 2006 | 35 | Athens GR | YD Yachts | $58,000 | 2023-07-16 | Probably Sold | 84 days |
| Sun Odyssey 36i | 2007 | 35 | Clyde GB | Boatshed Scotland | $85,000 | 2023-02-22 | Probably Sold | 108 days |
| Sun Odyssey 35 | 2006 | 35 | Gilford NH United States | Fay's Boat Yard, Inc | $82,500 | 2020-12-19 | Probably Sold | 127 days |
| Sun Odyssey 36i - 36 | 2008 | 35 | Liguria Italy | Abayachting | $69,591 | 2020-08-22 | Probably Sold | 287 days |
| Sun Odyssey 35 | 2006 | 35 | Â Â Istria, Croatia | Selymar Yachts | $48,800 | 2020-01-19 | Sold | 313 days |
| Sun Odyssey 35 | 2006 | 35 | Southampton, Hampshire, United Kingdom | Sea Ventures (UK) Ltd | $67,006 | 2019-10-16 | Sold | 188 days |
| Sun Odyssey 35 Lifting Keel | 2006 | 35 | Hampshire, United Kingdom | Network Yacht Brokers | $84,423 | 2018-05-08 | Sold | 211 days |
| SUN ODYSSEY 35 DL | 2006 | 35 | France | Royal Nautisme - Port La Forêt | $66,586 | 2018-04-08 | Sold | 150 days |
| Sun Odyssey 35 | 2006 | 35 | ON, Can | Breezeway Yachts | $105,935 | 2018-03-08 | Sold | 180 days |
Inactive Comparables
| Model | Year | Length | Location | Broker | Price | Date | Status | On Market |
| --- | --- | --- | --- | --- | --- | --- | --- | --- |
| Sun Odyssey 36i | 2008 | 35 | Provence - Alpes - Côte D'Azur FR | Sunbird France Mediterranee | $74,000 | 2023-07-03 | Inactive | 102 days |
| Sun Odyssey 36i Performance | 2008 | 35 | BODRUM TR | Popovac Performance d.o.o. | $74,000 | 2023-06-22 | Inactive | 252 days |
| Sun Odyssey 36i | 2008 | 35 | Provence - Alpes - Côte D'Azur FR | Sunbird France Mediterranee | $76,000 | 2023-06-13 | Inactive | 33 days |
| Sun Odyssey 36i | 2006 | 35 | Stavoren NL | Nautisch Kwartier Stavoren | $99,999 | 2023-04-20 | Inactive | 41 days |
| Sun Odyssey 36i Performance | 2007 | 35 | Italy IT | Abayachting | $85,000 | 2023-01-22 | Inactive | 74 days |
| Sun Odyssey 36i - 36 I | 2008 | 35 | Liguria IT | Abayachting | $78,000 | 2023-01-19 | Inactive | 97 days |
| 36i Performance | 2007 | 35 | Palma ES | Marina Estrella Portals | $99,999 | 2022-11-01 | Inactive | 177 days |
| Sun Odyssey 36i - 36 I | 2007 | 35 | Liguria IT | Abayachting | $88,000 | 2022-10-21 | Inactive | 40 days |
| Sun Odyssey 36i | 2008 | 35 | LE MARIN MQ | Net-Boat | $67,500 | 2022-09-09 | Inactive | 33 days |
| Sun Odyssey 36i | 2008 | 35 | Liguria IT | Mulazzani Trading Company | $92,000 | 2022-09-02 | Inactive | 33 days |