25' 2023 Bennington 25 RFBA
Lake Havasu City US
Sun Country Inland, Lake Havasu City
Power Gasoline 1
$158,511
On Market:
424 days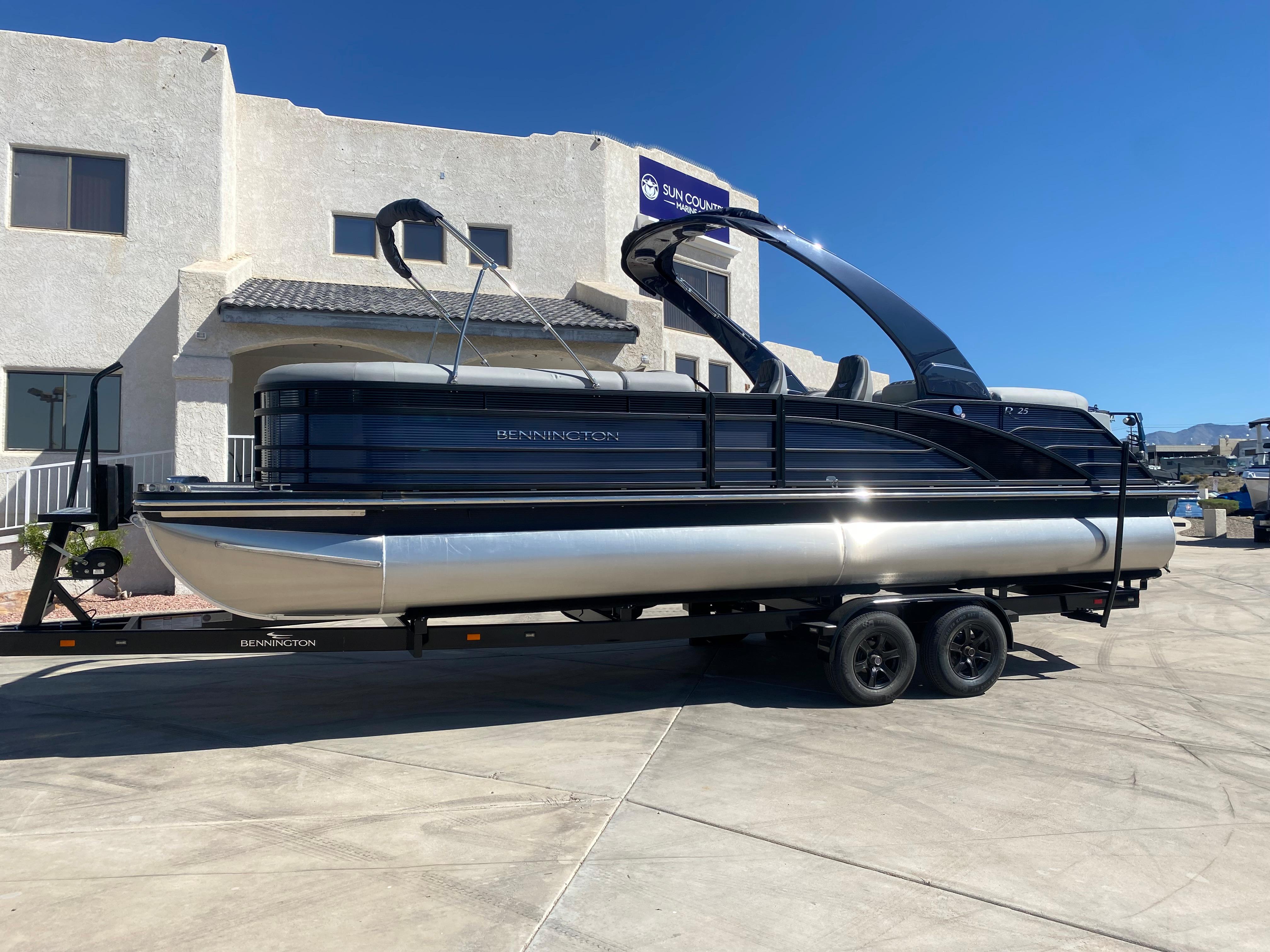 Your eye for excellence and aversion to compromise are true to spec. How do we know? Because we are built the same way. Your drive to exceed expectations at every opportunity - it's what makes us who we are, as well.  While other manufacturers screw thei
Buddha Value
No Value Available
Purchase More Information
Consult with the Buddha for $19.99. We have additional information available.
Price History
| Price | Date | Status |
| --- | --- | --- |
| ¤0 | 2022-10-12 | New |
| ¤0 | 2022-10-12 | Hidden |
| $158,511 | 2023-09-22 | Active |
Active Comparables
| Model | Year | Length | Location | Broker | Price | Date | Status | On Market |
| --- | --- | --- | --- | --- | --- | --- | --- | --- |
| 25 RXFBA | 2023 | 25 | Irvine US | Sun Country Inland, Irvine | $174,439 | 2023-09-06 | Active | 443 days |
| 25 QSBA | 2023 | 25 | Lake Havasu City US | Sun Country Inland, Lake Havasu City | $168,282 | 2023-09-21 | Active | 367 days |
| 25 RSBA | 2023 | 25 | Irvine US | Sun Country Inland, Irvine | $164,423 | 2023-08-07 | Active | 492 days |
| 25 QFBA | 2023 | 25 | Lake Havasu City US | Sun Country Inland, Lake Havasu City | $160,740 | 2023-09-29 | Reduced | 424 days |
| 25 RFBA | 2023 | 25 | Lake Havasu City US | Sun Country Inland, Lake Havasu City | $158,511 | 2023-09-22 | Active | 424 days |
| 25 RFBA | 2023 | 25 | Irvine US | Sun Country Inland, Irvine | $156,315 | 2023-09-20 | Reduced | 492 days |
| 26 LXSSB ESP | 2023 | 25 | Ft. Myers US | Marina Mikes | $149,116 | 2023-08-21 | Active | 144 days |
| 25 RFB | 2023 | 25 | Lake Havasu City US | Sun Country Inland, Lake Havasu City | $133,050 | 2023-10-11 | Reduced | 606 days |
| LX Sport Line | 2024 | 25 | Gulf Shores US | Gulf Shores Power Sports And Marine | $109,877 | 2023-09-10 | Active | 170 days |
| 24 LXFBA | 2023 | 25 | Port Deposit US | Tome's Landing Marina | $99,900 | 2023-10-10 | Reduced | 289 days |
Inactive Comparables
| Model | Year | Length | Location | Broker | Price | Date | Status | On Market |
| --- | --- | --- | --- | --- | --- | --- | --- | --- |
| 25 QSB | 2023 | 25 | Lake Havasu City US | Sun Country Inland, Lake Havasu City | $0 | 2023-07-14 | Inactive | 398 days |
| 25 QSBA | 2023 | 25 | Lake Havasu City US | Sun Country Inland, Lake Havasu City | $0 | 2023-07-08 | Inactive | 336 days |
| 25 LSR | 2023 | 25 | Somers Point US | Waterfront Marine Yacht Sales | $0 | 2023-06-27 | Inactive | 303 days |
| 25 RXSBA | 2023 | 25 | Irvine US | Sun Country Inland, Irvine | $0 | 2023-06-25 | Inactive | 255 days |
| 25 QSBA | 2023 | 25 | Irvine US | Sun Country Inland, Irvine | $0 | 2023-06-25 | Inactive | 198 days |
| 25 QFBA | 2023 | 25 | Irvine US | Sun Country Inland, Irvine | $0 | 2023-05-07 | Inactive | 149 days |
| 25 QFB | 2023 | 25 | Lake Havasu City US | Sun Country Inland, Lake Havasu City | $0 | 2023-04-23 | Inactive | 316 days |
| 25 RSB | 2022 | 25 | Lake Havasu City US | Sun Country Inland, Lake Havasu City | $0 | 2023-04-14 | Inactive | 405 days |
| 25 RSB | 2023 | 25 | Irvine US | Sun Country Inland, Irvine | $0 | 2023-04-08 | Inactive | 359 days |
| 25RTFBA | 2022 | 25 | Somers Point US | Waterfront Marine Yacht Sales | $0 | 2023-04-04 | Inactive | 405 days |