36' 1976 Grand Banks Classic
Seattle US
Boynton Yachts
Power Diesel 2
$95,000
On Market:
143 days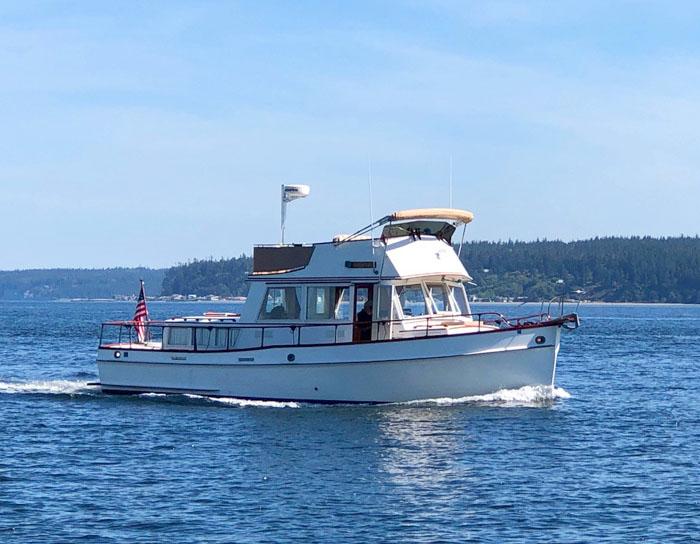 A quintessential Northwest favorite for all of the right reasons, it's a treat to find this beautifully maintained Grand Banks 36 Classic! Twin John Deere 120hp mains offer efficient 8-10 knot speeds; kept UNDER COVER with a custom adjustable folding mast
Buddha Value
↗ $120,823
Purchase More Information
Consult with the Buddha for $9.99. We have additional information available.
Price History
| Price | Date | Status |
| --- | --- | --- |
| ¤0 | 2022-11-03 | New |
| $99,000 | 2022-11-03 | Active |
| $95,000 | 2023-03-11 | Reduced |
Active Comparables
| Model | Year | Length | Location | Broker | Price | Date | Status | On Market |
| --- | --- | --- | --- | --- | --- | --- | --- | --- |
| Classic | 1976 | 36 | Seattle US | Boynton Yachts | $95,000 | 2023-03-11 | Reduced | 143 days |
Sold Comparables
| Model | Year | Length | Location | Broker | Price | Date | Status | On Market |
| --- | --- | --- | --- | --- | --- | --- | --- | --- |
| Aft-cabin Classic | 1977 | 36 | Port Orchard WA United States | Gig Harbor Yachts | $98,000 | 2020-05-10 | Probably Sold | 198 days |
| 36 Classic | 1976 | 36 | Westerly, RI, United States | Watch Hill Yacht Services, LLC | $44,000 | 2019-06-05 | Sold | 54 days |
| 36 Classic | 1977 | 36 | SC, United States | North Point Yacht Sales | $45,000 | 2019-01-08 | Sold | 91 days |
| 36 Classic | 1977 | 36 | ME, United States | East Coast Yacht Sales | $79,500 | 2018-05-08 | Sold | 241 days |
| 36 Classic Trawler | 1975 | 36 | MS, United States | Bennett Brothers Yachts | $54,900 | 2018-04-08 | Sold | 454 days |
Inactive Comparables
| Model | Year | Length | Location | Broker | Price | Date | Status | On Market |
| --- | --- | --- | --- | --- | --- | --- | --- | --- |
| 36 Classic | 1977 | 36 | Saint Augustine FL United States | St. Barts Yachts and Charleston Yacht Sales | $58,000 | 2020-06-24 | Inactive | 60 days |
| 36 Classic | 1977 | 36 | Charleston SC United States | St. Barts Yachts and Charleston Yacht Sales | $59,500 | 2020-04-23 | Inactive | -0 days |
| Classic Trawler | 1975 | 36 | New Smyrna Beach, FL, United States | Curtis Stokes & Associates | $59,000 | 2020-03-24 | Inactive | 201 days |
| 36 | 1977 | 36 | United States | Seattle Yachts | $99,000 | 2019-09-25 | Inactive | 166 days |