36' 1986 Catalina 36
VENTURA US
Portanova Yachts
Sail Gasoline 1
$27,000
On Market:
135 days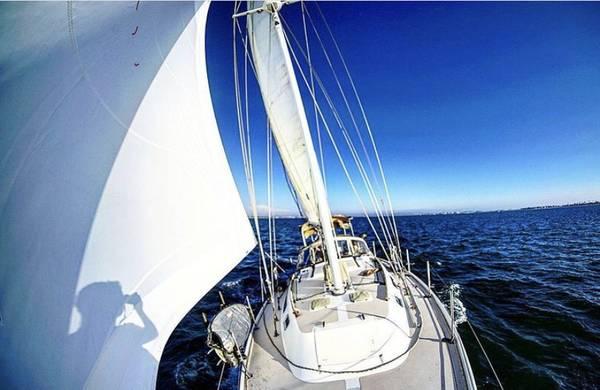 This is a solid stock Catalina 36. She will do her new owner very well and as you may have found out, these are rarely under $30k and if they are they are always a neglected boat. Not in this case. This boat is no longer used and our seller simply wishes
Buddha Value
↗ $31,705
Purchase More Information
Consult with the Buddha for $9.99. We have additional information available.
Price History
| Price | Date | Status |
| --- | --- | --- |
| ¤0 | 2022-11-11 | New |
| $36,500 | 2022-11-11 | Active |
| $33,900 | 2023-01-10 | Reduced |
| $29,900 | 2023-02-15 | Reduced |
| $27,000 | 2023-03-17 | Reduced |
Active Comparables
| Model | Year | Length | Location | Broker | Price | Date | Status | On Market |
| --- | --- | --- | --- | --- | --- | --- | --- | --- |
| 36 TM | 1985 | 36 | North Hero US | VSF Yacht Services | $59,000 | 2023-03-24 | Active | 2 days |
| 36 | 1985 | 36 | Gore Bay CA | United City Yachts Inc. | $54,000 | 2023-02-15 | Active | 39 days |
| 36 | 1985 | 36 | Santa Cruz US | Yachtfinders Windseakers | $39,000 | 2023-01-14 | Active | 71 days |
| Sloop | 1985 | 36 | Sausalito US | Marotta Yachts Of Sausalito | $38,500 | 2023-03-10 | Reduced | 166 days |
| 36 | 1986 | 36 | VENTURA US | Portanova Yachts | $27,000 | 2023-03-17 | Reduced | 135 days |
Sold Comparables
| Model | Year | Length | Location | Broker | Price | Date | Status | On Market |
| --- | --- | --- | --- | --- | --- | --- | --- | --- |
| 36 | 1987 | 36 | Portland US | McCuddy's Marina - Hayden Island Yacht Sales | $39,999 | 2022-09-01 | Probably Sold | 73 days |
| Sloop | 1985 | 36 | Oceanside US | Breakwater Yacht Sales | $50,000 | 2022-05-02 | Probably Sold | 69 days |
| 36 Tm | 1985 | 36 | Toronto ON Canada | Anchor Yacht Sales | $46,976 | 2021-04-13 | Probably Sold | 189 days |
| 36 | 1985 | 36 | Long Beach, CA, United States | Denison Yachting | $36,000 | 2020-06-09 | Probably Sold | 278 days |
| 36 Mk I | 1986 | 36 | West Vancouver BC Canada | Thunderbird Yacht Sales | $46,307 | 2020-06-01 | Probably Sold | 13 days |
| 36 Tall Rig | 1987 | 36 | Denison, TX, United States | Grandpappy Point Marina | $19,900 | 2020-05-16 | Probably Sold | 401 days |
| 36 | 1985 | 36 | Shediac, NB, Canada | Sunnybrook Yachts | $28,425 | 2020-03-30 | Sold | 354 days |
| Tall Rig | 1987 | 36 | Tacoma, WA, United States | Breakwater Marina Yacht Sales | $39,900 | 2020-03-23 | Probably Sold | 207 days |
| Mark I | 1986 | 36 | Toronto ON Canada | United City Yachts Inc. | $31,328 | 2020-03-06 | Probably Sold | 133 days |
| Mki | 1986 | 36 | Â Â San Carlos, Mexico | Mazatlan Marine Center SA de CV | $29,500 | 2020-02-16 | Sold | 341 days |
Inactive Comparables
| Model | Year | Length | Location | Broker | Price | Date | Status | On Market |
| --- | --- | --- | --- | --- | --- | --- | --- | --- |
| 36 | 1986 | 36 | Grapevine US | Citimarine Yachts | $48,500 | 2023-01-17 | Inactive | 151 days |
| Catalina 36 | 1985 | 36 | Ventura US | Portanova Yachts | $49,999 | 2023-01-16 | Inactive | 122 days |
| Sloop | 1986 | 36 | Sausalito US | Marotta Yachts of Sausalito | $36,500 | 2022-10-21 | Inactive | 39 days |
| 36 | 1987 | 36 | Coronado US | Yachtfinders Windseakers | $37,500 | 2022-10-13 | Inactive | 47 days |
| 36 | 1986 | 36 | San Diego US | CFB Marine Group | $39,000 | 2022-09-11 | Inactive | 177 days |
| 36 | 1986 | 36 | Milwaukee US | Manitowoc Marina and Nestegg Marine | $44,000 | 2022-08-21 | Inactive | 150 days |
| 36 | 1986 | 36 | Richmond CA | United City Yachts inc. | $59,500 | 2022-07-23 | Inactive | 29 days |
| 36 | 1985 | 36 | San Diego US | W S Yacht Brokers - San Diego | $47,500 | 2022-07-04 | Inactive | 35 days |
| 36 | 1985 | 36 | San Diego US | Yachtfinders Windseakers | $39,000 | 2022-04-13 | Inactive | 33 days |
| 36 | 1986 | 36 | Newport NSW Australia | DBY Boat Sales | $56,185 | 2020-10-22 | Inactive | 271 days |