52' 2017 Lagoon 52
Fort Lauderdale US
Next Generation Yachting
Sail Diesel 2
$945,000
On Market:
131 days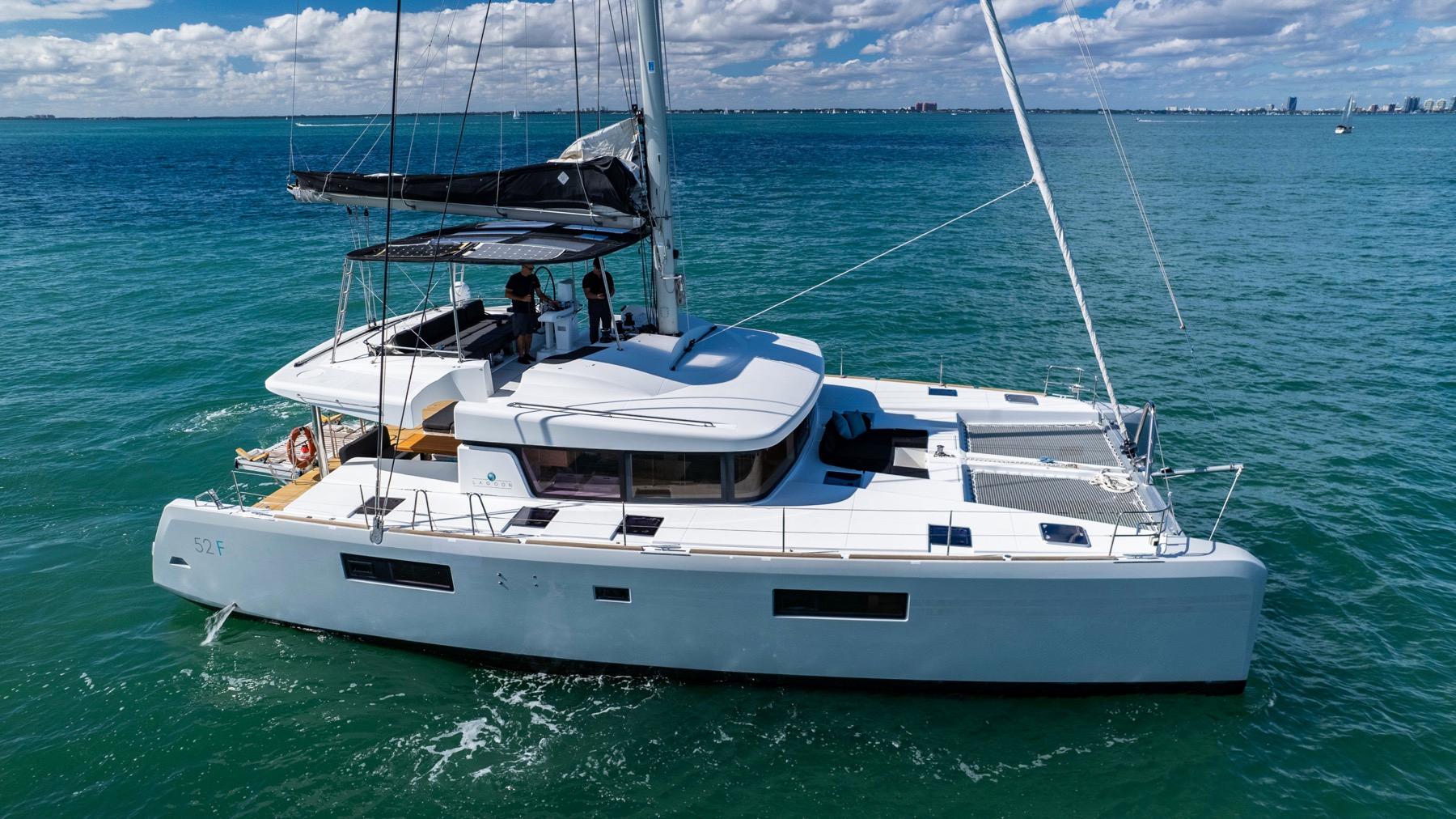 Introducing the exceptional 2017 Lagoon 52 "Big Time" - a remarkable 4 cabin version available for sale in Florida. This well-maintained yacht boasts US specs with duties paid, providing a rare opportunity for immediate purchase. With a great list of feat
Buddha Value
→ $976,388
Purchase More Information
Consult with the Buddha for $9.99. We have additional information available.
Price History
| Price | Date | Status |
| --- | --- | --- |
| ¤0 | 2022-11-15 | New |
| $995,000 | 2022-11-15 | Active |
| $945,000 | 2023-03-11 | Reduced |
Active Comparables
| Model | Year | Length | Location | Broker | Price | Date | Status | On Market |
| --- | --- | --- | --- | --- | --- | --- | --- | --- |
| 52 | 2016 | 52 | PANAMA PA | HAREL YACHTS | $950,000 | 2023-03-19 | Reduced | 310 days |
| 52 | 2017 | 52 | Fort Lauderdale US | Next Generation Yachting | $945,000 | 2023-03-11 | Reduced | 131 days |
| 52F | 2016 | 52 | ?????? GR | Vernicos Yachts | $940,000 | 2022-10-12 | Active | 165 days |
| 52 | 2016 | 52 | Athens GR | Yacht Broker House | $937,000 | 2022-11-22 | Active | 124 days |
| 52 | 2017 | 52 | FETHIYE TR | Sunbird Marmaris | $899,000 | 2022-08-31 | Reduced | 282 days |
Sold Comparables
| Model | Year | Length | Location | Broker | Price | Date | Status | On Market |
| --- | --- | --- | --- | --- | --- | --- | --- | --- |
| 52s | 2018 | 52 | Canet En Roussillon France | CathYacht International | $1,070,820 | 2020-11-25 | Probably Sold | 298 days |
| Lagoon 52 | 2017 | 52 | Fort Lauderdale FL United States | The Catamaran Company | $1,045,000 | 2020-11-03 | Probably Sold | 233 days |
| 52 F | 2016 | 52 | Wanchese, NC, United States | Lombardi Yacht Sales | $975,000 | 2020-04-18 | Sold | 348 days |
| 52 | 2017 | 52 | France | Apaca | $1,074,336 | 2019-02-08 | Sold | 760 days |
| 52 F | 2016 | 52 | Italy | Yacht Studio R. G. Ltd | $1,007,190 | 2019-02-08 | Sold | 183 days |
| 52 F | 2017 | 52 | France | CathYacht International | $995,999 | 2018-11-08 | Sold | 183 days |
| 52 | 2017 | 52 | St. Maarten/St. Martin | HAREL YACHTS | $928,853 | 2018-06-08 | Sold | 60 days |
Inactive Comparables
| Model | Year | Length | Location | Broker | Price | Date | Status | On Market |
| --- | --- | --- | --- | --- | --- | --- | --- | --- |
| 52 F | 2016 | 52 | Tyrrenian IT | Vyba Yachts | 850000 | 2023-02-22 | Inactive | 80 days |
| 52 F | 2016 | 52 | Atenas GR | Catamarans Barcelona | 850000 | 2023-01-09 | Inactive | 53 days |
| 52 | 2017 | 52 | Ft. Lauderdale US | Catamaran Guru | 1199000 | 2022-11-12 | Inactive | 98 days |
| 52S | 2018 | 52 | Charleston US | Ashley Yachts - Charleston | 1215000 | 2022-10-20 | Inactive | 63 days |
| 52 F | 2016 | 52 | PANAMA PA | Andromeda Yachts S.A. | 1049000 | 2022-09-03 | Inactive | 173 days |
| 52 F | 2018 | 52 | La Paz MX | Sma Yachts | 995000 | 2022-04-16 | Inactive | 58 days |
| 52 F | 2017 | 52 | Malmö Sweden | Navigare Yachting | 544950 | 2022-02-18 | Inactive | 537 days |
| 52 F | 2016 | 52 | Marigot St. Maarten/st. Martin | PYRATZ GOURMET SAILING .B.V | 546570 | 2021-05-16 | Inactive | 248 days |
| 52 | 2016 | 52 | South Of France, France | HAREL YACHTS | 920968 | 2021-02-21 | Inactive | 585 days |
| 52 F | 2017 | 52 | Seget Donji Croatia | Navigare Yachting | 482176 | 2021-01-13 | Inactive | 446 days |