27' 2001 Beneteau Ombrine 800
Marseille FR
CAP MED Boat & Yacht Consulting
Power Diesel 1
€35,000
On Market:
131 days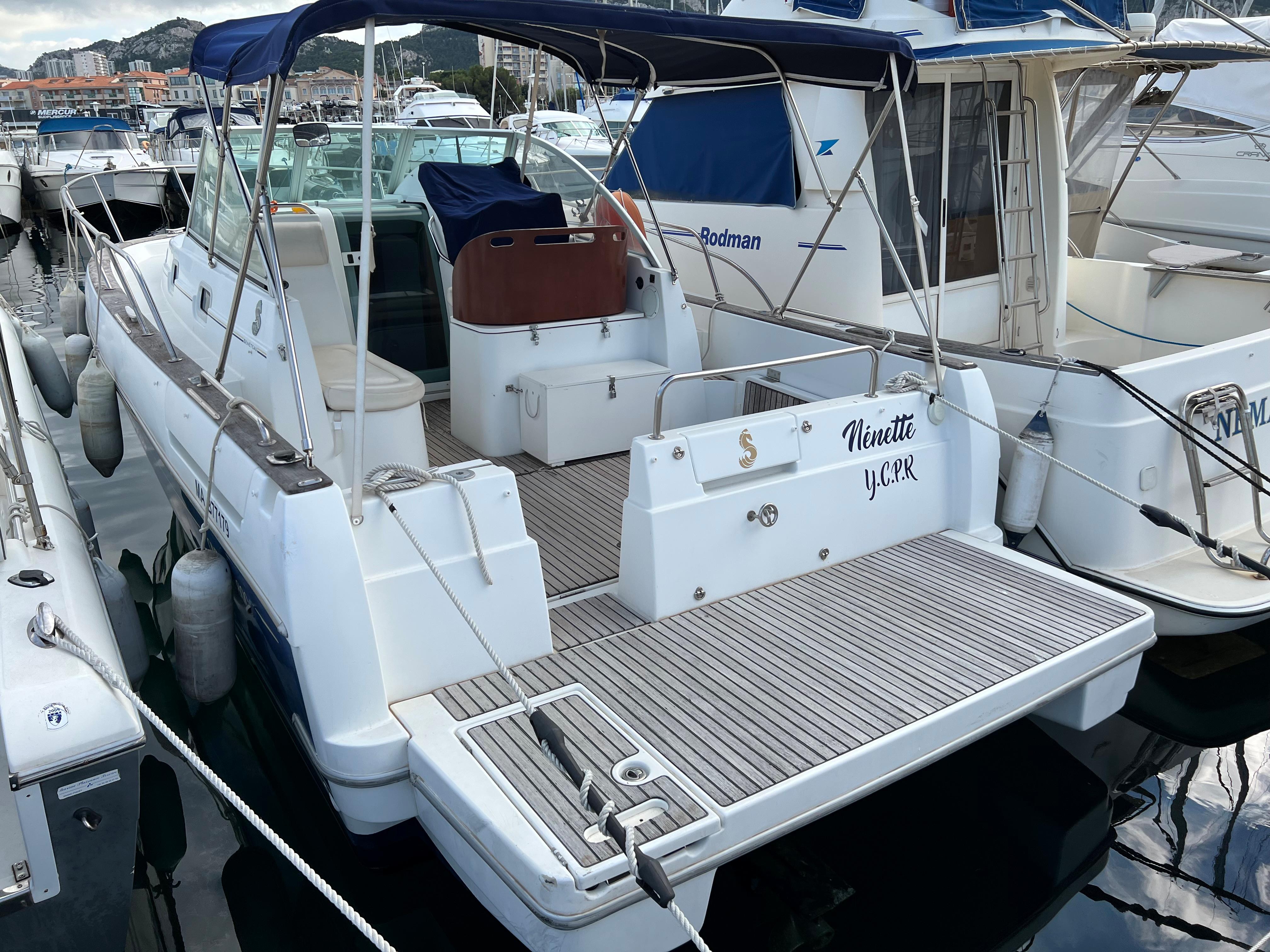 CAP'MED BOAT & YACHT Consulting à le plaisir de vous présenter ce BENETEAU Ombrine 800 très bien optionné et en EXCELLENT état, ce bateau est entretenu et suivirigoureusement par des professionnels. Motorisé par 1 Volvo Penta de 230ch de seulement 500 heu
Buddha Value
→ $39,067
Purchase More Information
Consult with the Buddha for $9.99. We have additional information available.
Price History
| Price | Date | Status |
| --- | --- | --- |
| ¤0 | 2022-11-15 | New |
| €44,990 | 2022-11-15 | Active |
| €39,000 | 2023-02-06 | Reduced |
| €35,000 | 2023-03-12 | Reduced |
Active Comparables
| Model | Year | Length | Location | Broker | Price | Date | Status | On Market |
| --- | --- | --- | --- | --- | --- | --- | --- | --- |
| Ombrine 800 | 2001 | 27 | Marseille FR | CAP MED Boat & Yacht Consulting | $35,000 | 2023-03-12 | Reduced | 131 days |
Sold Comparables
| Model | Year | Length | Location | Broker | Price | Date | Status | On Market |
| --- | --- | --- | --- | --- | --- | --- | --- | --- |
| Antares Serie 9 | 2000 | 27 | Grimsby GB | Boatshed Lincolnshire | $37,450 | 2022-10-31 | Probably Sold | 83 days |
| Antares Serie 9 | 2001 | 27 | Portsmouth E19 United Kingdom | Jaykay Marine Sales | $54,166 | 2020-09-27 | Probably Sold | 155 days |
| Antares Serie 9 | 2001 | 27 | France | Nautic Avenue | $49,240 | 2018-04-08 | Sold | 30 days |
Inactive Comparables
| Model | Year | Length | Location | Broker | Price | Date | Status | On Market |
| --- | --- | --- | --- | --- | --- | --- | --- | --- |
| Ombrine 800 | 2002 | 27 | Cannes FR | Star Yachting | $39,900 | 2023-03-11 | Inactive | 360 days |
| Ombrine 800 | 2002 | 27 | Mar Ligure IT | Marina Yacht Sales srl | $41,000 | 2022-10-22 | Inactive | 197 days |
| Antares Serie 9 | 2001 | 27 | Dun Laoghaire, Ireland | MGM Boats | $50,366 | 2019-07-17 | Inactive | 97 days |
| Antares Serie 9 | 2001 | 27 | Toulon, France | Esprit Sud | $38,338 | 2019-05-21 | Inactive | 39 days |
| Ombrine 800 | 2002 | 27 | Eastbourne, East Sussex, United Kingdom | Bates Wharf - HQ | $44,780 | 2019-05-21 | Inactive | 39 days |
| Antares Serie 9 | 2000 | 27 | Â Â Brittany Channel, France | XBOAT | $41,048 | 2019-04-17 | Inactive | 36 days |