20' 2000 Pro-Line 20 Wa
Bronx US
BoatMax
Power Gasoline 0
$9,500
On Market:
382 days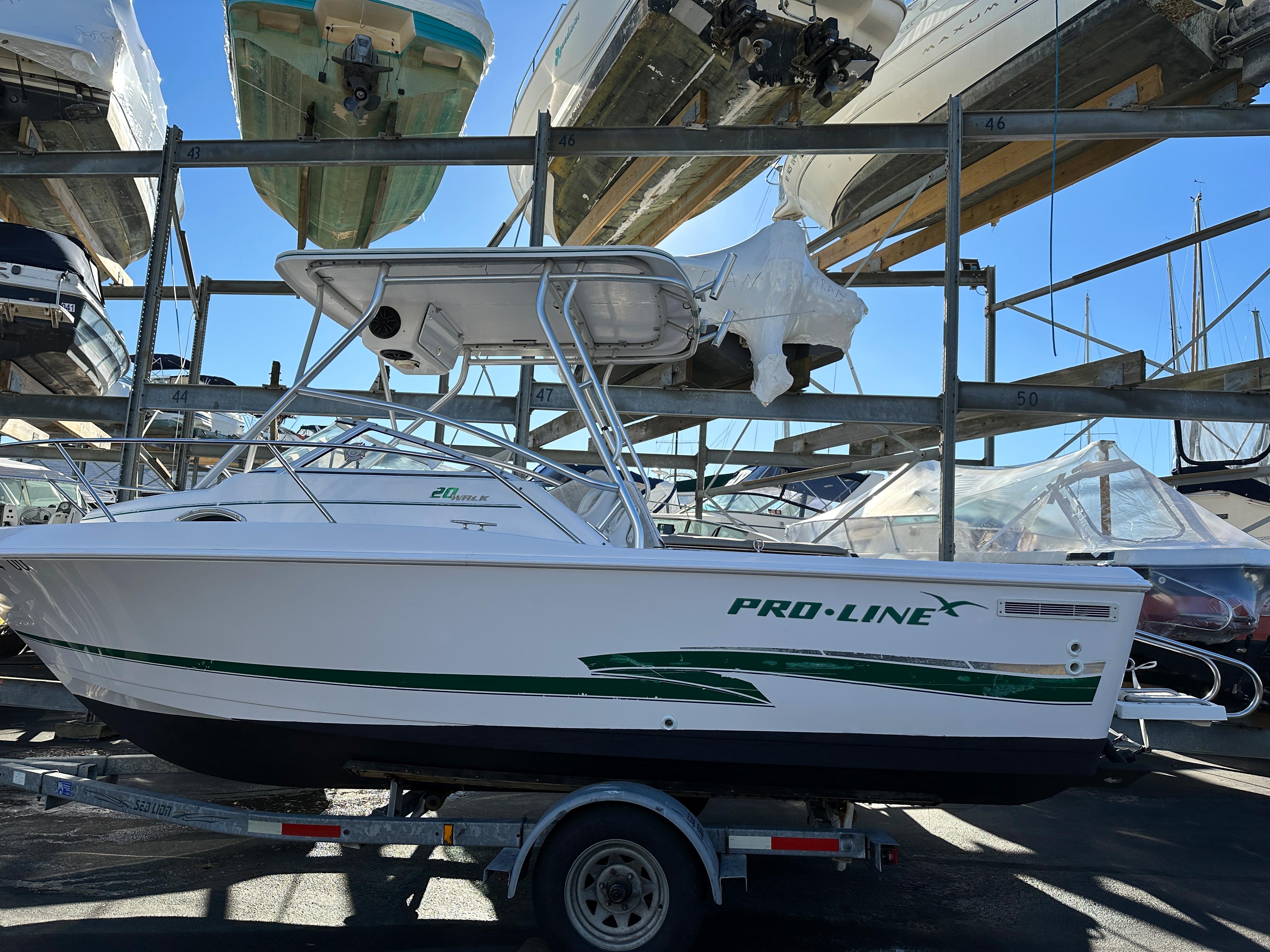 A Proline 20' WA detailed, bottom painted, and ready to go hang out on the water and go fishing! Equipped with full cover for boat and trailer. Volvo 260 HP Upgrades in 2022: Lowrence Fishfinder, Bluetooth Radio, LED lights, Lights on T-Top.
Buddha Value
↗ $10,011
Purchase More Information
Consult with the Buddha for $19.99. We have additional information available.
Price History
| Price | Date | Status |
| --- | --- | --- |
| ¤0 | 2022-11-23 | New |
| $16,500 | 2022-11-23 | Active |
| $15,000 | 2023-02-25 | Reduced |
| $13,000 | 2023-04-15 | Reduced |
| $12,000 | 2023-07-21 | Reduced |
| $9,500 | 2023-09-17 | Reduced |
Active Comparables
| Model | Year | Length | Location | Broker | Price | Date | Status | On Market |
| --- | --- | --- | --- | --- | --- | --- | --- | --- |
| 202 Sportsman | 1999 | 20 | Blue Point US | Yacht Finders LLC | $9,995 | 2023-07-24 | Reduced | 176 days |
| 20 Wa | 2000 | 20 | Bronx US | BoatMax | $9,500 | 2023-09-17 | Reduced | 382 days |
Sold Comparables
| Model | Year | Length | Location | Broker | Price | Date | Status | On Market |
| --- | --- | --- | --- | --- | --- | --- | --- | --- |
| 20 Walkaround | 2000 | 20 | Gloucester VA United States | Oyster Cove Boatworks and Yacht Brokerage | $22,900 | 2020-01-15 | Sold | 67 days |
| 201 Walkaround | 1999 | 20 | FL, United States | Emerald Coast Marine | $13,970 | 2018-11-08 | Sold | 30 days |
| 20 Dual Console | 2000 | 20 | NH, United States | Fay's Boat Yard, Inc. | $8,995 | 2018-09-08 | Sold | 30 days |
| 20 Walkaround | 1999 | 20 | CT, United States | Beacon Point Marine | $9,995 | 2018-05-08 | Sold | 88 days |
Inactive Comparables
| Model | Year | Length | Location | Broker | Price | Date | Status | On Market |
| --- | --- | --- | --- | --- | --- | --- | --- | --- |
| 20 Pro-line | 2001 | 20 | Bronx US | BoatMax | 15500 | 2023-07-21 | Inactive | 77 days |
| 201 Wa | 1999 | 20 | Pensacola US | Legendary Marine Super Center - Pensacola | 9300 | 2023-07-05 | Inactive | 320 days |
| 20 Sport | 2001 | 20 | Lantana US | OLYMPIA YACHT GROUP | 17500 | 2023-05-04 | Inactive | 99 days |
| 20 Wa | 2000 | 20 | Cornelius US | Boat Brokers LKN | 12000 | 2023-01-05 | Inactive | 38 days |
| 20 Cc | 2000 | 20 | Naples US | Sea Bright Office | 7900 | 2022-07-04 | Inactive | 37 days |
| 20 Wa | 2001 | 20 | Buzzards Bay US | Hyannis Marina | 24900 | 2022-06-06 | Inactive | 44 days |
| 201 Pro-line | 1999 | 20 | Topping US | Sandy Point Marine Services | 14995 | 2022-05-08 | Inactive | 36 days |
| 201 Wa | 1999 | 20 | Pine Beach US | Shore Point Marina & Yacht Sales, Inc. | 11900 | 2022-04-23 | Inactive | 30 days |
| 20 Express | 2000 | 20 | Woodbridge VA United States | Holly Acres Travel | 17000 | 2020-10-29 | Inactive | -0 days |
| 201wa | 1999 | 20 | Brick NJ United States | Waterfront Marine Yacht Sales-New Jersey | 8995 | 2020-05-09 | Inactive | -0 days |