54' 1995 Viking Sport Yacht
Fort Myers US
Intel Marine
Power Diesel 0
$89,999
On Market:
86 days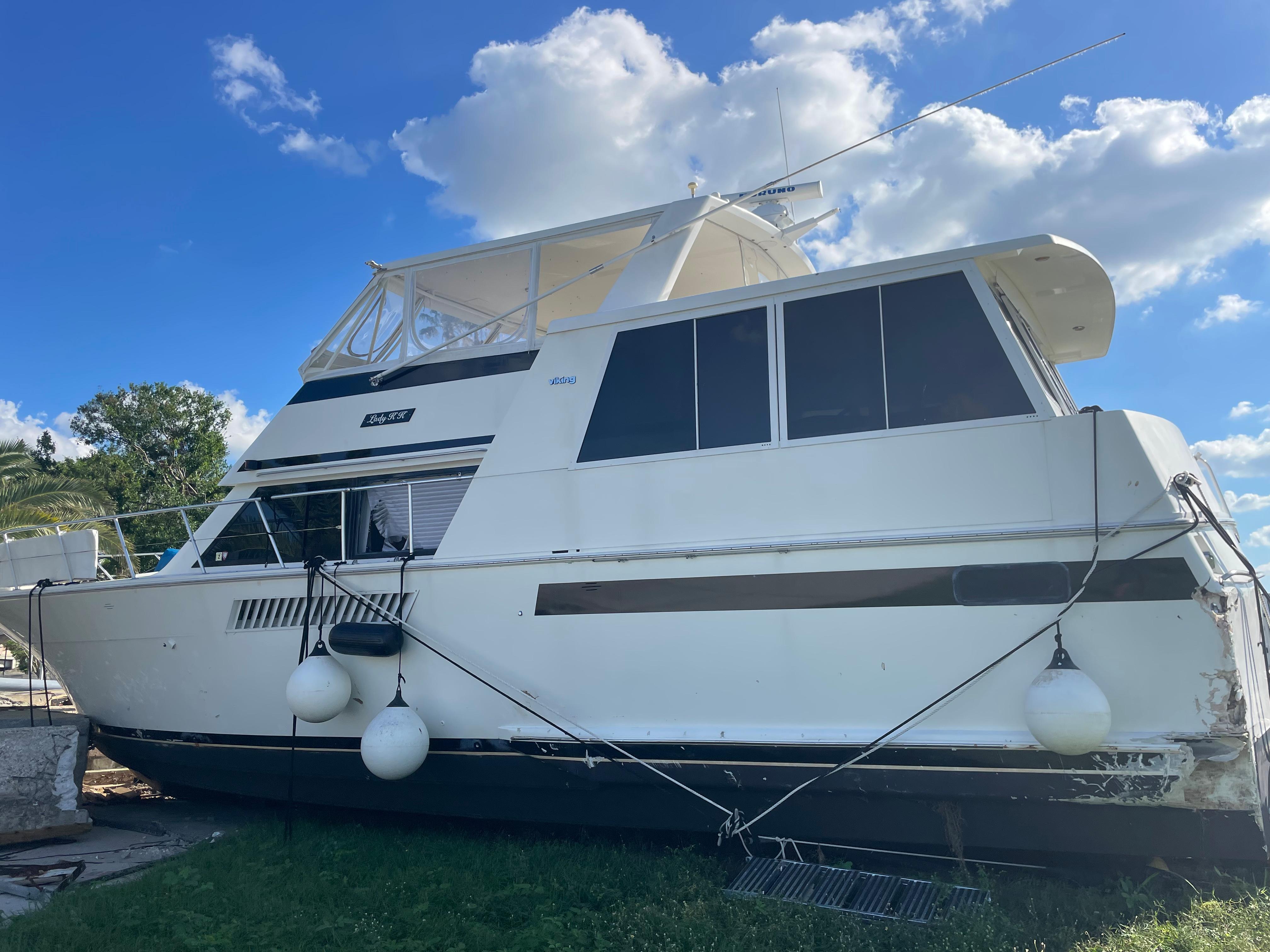 1994 VIKING Sport Yacht   STORM DAMAGED VESSEL. Everything was functional before storm. Did not submerge but took on 1 ft of water.  We are told engines are ok. Running gear seems to be ok as well but inspection is needed. Some fiberglass damages.   B
Purchase More Information
Consult with the Buddha for $9.99. We have additional information available.
Price History
| Price | Date | Status |
| --- | --- | --- |
| ¤0 | 2022-12-10 | New |
| $139,999 | 2022-12-10 | Active |
| $89,999 | 2023-01-26 | Reduced |
| $89,999 | 2023-03-07 | Inactive |
Sold Comparables
| Model | Year | Length | Location | Broker | Price | Date | Status | On Market |
| --- | --- | --- | --- | --- | --- | --- | --- | --- |
| Motor Yacht | 1994 | 54 | MD, United States | Annapolis Yacht Company | $319,000 | 2018-02-08 | Sold | 244 days |
Inactive Comparables
| Model | Year | Length | Location | Broker | Price | Date | Status | On Market |
| --- | --- | --- | --- | --- | --- | --- | --- | --- |
| Sport Yacht | 1995 | 54 | Fort Myers US | Intel Marine | $89,999 | 2023-03-07 | Inactive | 86 days |
| 54 Motor Yacht | 1996 | 54 | Detroit, MI, United States | Jefferson Beach Yacht Sales | $379,900 | 2022-02-22 | Inactive | 971 days |
| 54 Sport Yacht | 1995 | 54 | Naples FL United States | #Palm Beach Yacht Sales | $280,000 | 2021-04-12 | Inactive | 404 days |
| Sport Yacht | 1994 | 54 | Branford CT United States | Offshore Marine Services, Ltd. | $339,000 | 2020-06-05 | Inactive | -0 days |
| 54 Motor Yacht | 1994 | 54 | North Myrtle Beach, SC, United States | Intracoastal Yacht Sales - | $277,000 | 2020-02-01 | Inactive | 296 days |
| 54 Sport Yacht | 1995 | 54 | Warwick, RI, United States | HMY Yacht Sales, Inc. | $349,999 | 2019-10-20 | Inactive | 192 days |
| 54 Sports Yacht | 1995 | 54 | Naples, FL, United States | Yacht Brokers South | $339,000 | 2019-06-05 | Inactive | 55 days |