28' 2015 Axopar 28 T-Top
Fort Lauderdale US
Nautical Ventures-Fort Lauderdale
Power Gasoline 1
$79,990
On Market:
89 days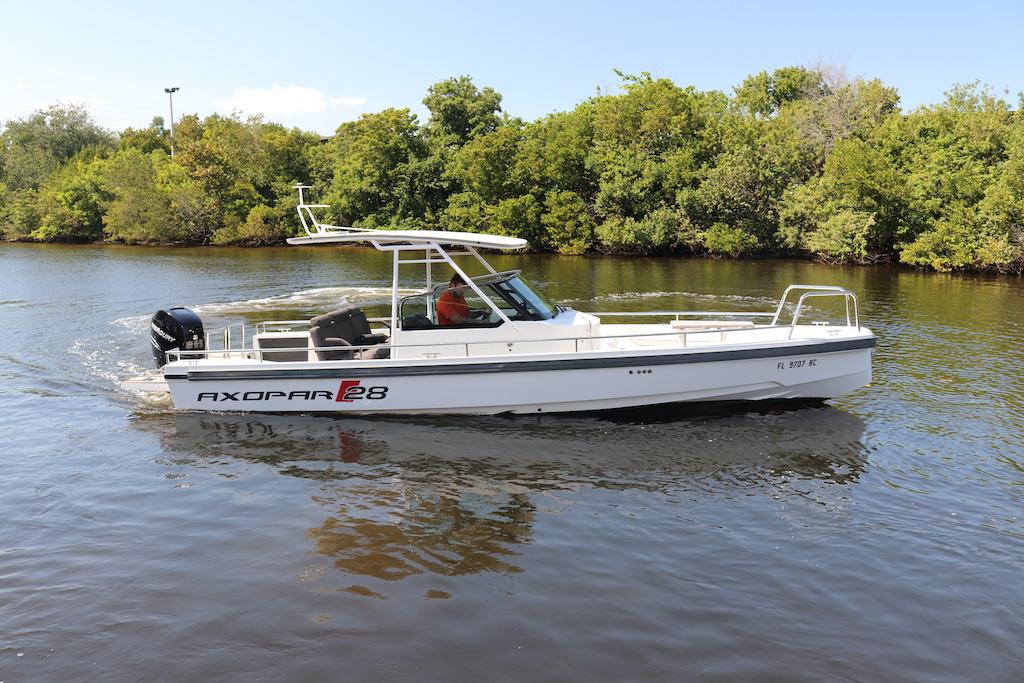 Available by Appointment:  Fort Lauderdale This 2015 Axopar 28 T-Top is powered by a 300 HP Mercury Verado with 550 hours. The helm includes Garmin GPS/Plotter, Garmin VHF radio, digital engine gauges, tablet slot, leather steering wheel, steering compas
Purchase More Information
Consult with the Buddha for $9.99. We have additional information available.
Price History
| Price | Date | Status |
| --- | --- | --- |
| ¤0 | 2022-12-12 | New |
| $99,000 | 2022-12-12 | Active |
| $79,990 | 2023-01-25 | Reduced |
| $79,990 | 2023-03-12 | Inactive |
Active Comparables
| Model | Year | Length | Location | Broker | Price | Date | Status | On Market |
| --- | --- | --- | --- | --- | --- | --- | --- | --- |
| 28 Cabin AC Model R | 2016 | 28 | Bembridge, IOW GB | Ancasta Cowes | $110,000 | 2023-03-12 | Active | 14 days |
| 28AC | 2015 | 28 | Hanko FI | Hangon Auto Ja Venetalo | $89,900 | 2023-02-09 | Reduced | 220 days |
| 28 T-Top | 2015 | 28 | Fort Lauderdale US | Nautical Ventures-Fort Lauderdale | $84,900 | 2023-03-01 | Active | 25 days |
| 28 T-Top | 2016 | 28 | Palma De Mallorca ES | Yateocasion.com | $74,900 | 2023-03-02 | Reduced | 213 days |
Sold Comparables
| Model | Year | Length | Location | Broker | Price | Date | Status | On Market |
| --- | --- | --- | --- | --- | --- | --- | --- | --- |
| 28 TT | 2016 | 28 | Fort Lauderdale US | Nautical Ventures-Fort Lauderdale | $110,000 | 2022-10-13 | Probably Sold | 75 days |
| 28 Aft Cabin | 2015 | 28 | Turku Finland | Vinces | $85,913 | 2020-04-19 | Sold | 51 days |
| 28 Cabin | 2016 | 28 | Yarmouth, ME, United States | East Coast Yacht Sales | $117,500 | 2019-10-03 | Sold | 41 days |
| CABIN | 2016 | 28 | BC, Can | FREEDOM MARINE | $118,870 | 2018-12-08 | Sold | -0 days |
| 28 T-Top Aft Cabin | 2016 | 28 | NY, United States | Rapoxa Boats, Inc | $119,000 | 2018-09-08 | Sold | -0 days |
| 28 C | 2016 | 28 | FL, United States | Nautical Ventures | $119,000 | 2018-06-08 | Sold | 30 days |
| 28OC | 2016 | 28 | Guernsey | Lovell Yachts Limited | $91,558 | 2018-05-08 | Sold | 29 days |
| 28 TT-AC | 2016 | 28 | FL, United States | Nautical Ventures | $104,990 | 2018-03-08 | Sold | 211 days |
| 28 TT | 2016 | 28 | FL, United States | Nautical Ventures | $120,780 | 2018-01-08 | Sold | 333 days |
| 28 TT AC | 2016 | 28 | FL, United States | Nautical Ventures | $106,000 | 2018-01-08 | Sold | 91 days |
Inactive Comparables
| Model | Year | Length | Location | Broker | Price | Date | Status | On Market |
| --- | --- | --- | --- | --- | --- | --- | --- | --- |
| 28 T-Top | 2015 | 28 | Fort Lauderdale US | Nautical Ventures-Fort Lauderdale | $79,990 | 2023-03-12 | Inactive | 89 days |
| 28 T Top | 2016 | 28 | Santanyi ES | Shore Marine | $95,000 | 2022-06-13 | Inactive | 30 days |
| 28 Aft Cabin | 2015 | 28 | Southampton E19 United Kingdom | MCC Marine | $106,099 | 2020-06-23 | Inactive | -0 days |
| 28 Tt | 2016 | 28 | Fort Lauderdale FL United States | Nautical Ventures Marine Center | $105,000 | 2020-03-20 | Inactive | 51 days |
| 28 T Top | 2015 | 28 | Fort Lauderdale, FL, United States | Nautical Ventures | $79,990 | 2019-08-29 | Inactive | 104 days |
| 28 T-Top | 2015 | 28 | Â Â Palma, Spain | Coast Yachts Ltd | $112,404 | 2019-05-17 | Inactive | 66 days |
| 28 Tt | 2016 | 28 | Fort Lauderdale, FL, United States | Nautical Ventures | $94,990 | 2019-05-16 | Inactive | 34 days |
| 28 Cabin | 2015 | 28 | Greenock, Inverclyde, United Kingdom | Sunbird International Yacht Sales | $91,621 | 2019-05-06 | Inactive | 24 days |
| 28 C | 2016 | 28 | | Nautical Ventures | $125,000 | 2019-04-17 | Inactive | 36 days |