45' 2011 Jeanneau Sun Odyssey 44i
Dalmatia HR
Marine One Boats
Sail Diesel 1
€135,000
On Market:
101 days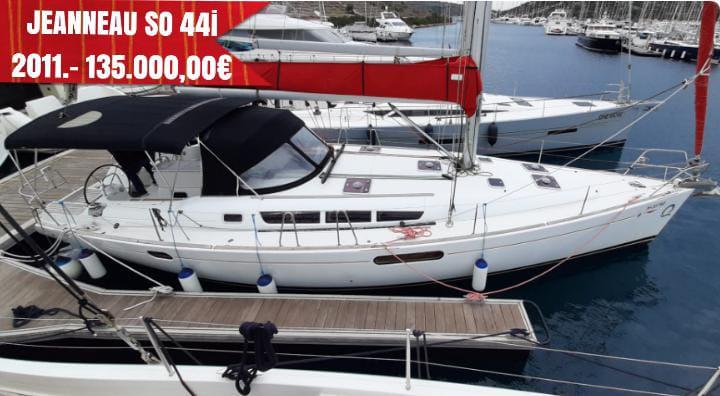 -Boat Jeanneau SO 44i (code 537) is available for sale immediately -Bimini and sprayhood are 1.5 years old. -The boat has Webasto. -New Raymarine tridata. -The Cockpit area has been renewed as well as teak and the gelcoat.
Buddha Value
↗ $160,108
Purchase More Information
Consult with the Buddha for $9.99. We have additional information available.
Price History
| Price | Date | Status |
| --- | --- | --- |
| ¤0 | 2022-12-15 | New |
| €130,000 | 2022-12-15 | Active |
| €135,000 | 2023-01-22 | Increased |
Active Comparables
| Model | Year | Length | Location | Broker | Price | Date | Status | On Market |
| --- | --- | --- | --- | --- | --- | --- | --- | --- |
| Sun Oddyssey 44i | 2010 | 45 | Scarborough AU | The Yacht Sales Co. | $260,000 | 2023-03-11 | Active | 15 days |
| Sun Odyssey 44i | 2011 | 45 | Dalmatia HR | Marine One Boats | $135,000 | 2023-01-22 | Increased | 101 days |
| Sun Odyssey 44i | 2011 | 45 | Primošten HR | Q-Yacht D.o.o. | $128,500 | 2023-03-25 | Active | 1 days |
Sold Comparables
| Model | Year | Length | Location | Broker | Price | Date | Status | On Market |
| --- | --- | --- | --- | --- | --- | --- | --- | --- |
| Sun Odyssey 45ds | 2010 | 45 | Annapolis US | David Walters Yachts | $259,000 | 2022-05-27 | Probably Sold | 60 days |
| Sun Odyssey 44i | 2010 | 45 | Gouvia Marina, Corfu Greece | Network Yacht Brokers | $151,162 | 2022-02-20 | Probably Sold | 538 days |
| Sun Odyssey 45 Ds | 2010 | 45 | Pwllheli W10 United Kingdom | BJ Marine | $193,726 | 2022-02-15 | Probably Sold | 760 days |
| 45ds | 2012 | 45 | Miami FL United States | Grove Yacht Sales LLC | $199,000 | 2021-05-14 | Probably Sold | 231 days |
| Sun Odyssey 45 Ds | 2011 | 45 | Annapolis MD United States | Atlantic Cruising Yachts | $240,000 | 2021-01-30 | Probably Sold | 45 days |
| Sun Odyssey 45 Ds | 2010 | 45 | Anacortes WA United States | Seattle Yachts | $249,000 | 2020-12-30 | Probably Sold | 144 days |
| Sun Odyssey 44i | 2011 | 45 | Lefkas Greece | Sunsail Brokerage | $100,921 | 2020-08-18 | Probably Sold | 66 days |
| Sun Odyssey 44i | 2011 | 45 | Lefkas Greece | Sunsail Brokerage | $94,393 | 2020-05-30 | Probably Sold | 186 days |
| Sun Odyssey 44i | 2011 | 45 | Piraeus Greece | Sunsail Brokerage | $92,659 | 2020-05-24 | Probably Sold | 77 days |
| Sun Odyssey 45 Ds | 2012 | 45 | Barcelona, Spain | AurumYacht | $176,544 | 2020-01-27 | Probably Sold | 144 days |
Inactive Comparables
| Model | Year | Length | Location | Broker | Price | Date | Status | On Market |
| --- | --- | --- | --- | --- | --- | --- | --- | --- |
| 45 Deck Salon | 2011 | 45 | San Diego US | Cruising Yachts - San Diego | $290,000 | 2022-11-14 | Inactive | 91 days |
| 44i | 2011 | 45 | Grenada GD | Boatshed Grenada | $169,000 | 2022-09-26 | Inactive | 124 days |
| 45 Sun Odyssey DS | 2010 | 45 | Cheboygan US | Dilworth Yacht Brokers | $219,500 | 2022-08-10 | Inactive | 66 days |
| 45 Sun Odyssey DS | 2010 | 45 | Cheboygan US | Dilworth Yacht Brokers | $225,000 | 2022-06-04 | Inactive | 38 days |
| 45ds | 2012 | 45 | Miami, FL, United States | Atlantic Cruising Yachts | $199,000 | 2022-02-18 | Inactive | 1044 days |
| Sun Odyssey 45 Ds | 2010 | 45 | Provence - Alpes - Côte D Azur France | Sunbird International Yacht Sales | $160,622 | 2022-02-16 | Inactive | 805 days |
| Sun Odyssey 469 | 2012 | 45 | Kroatien, Croatia | Michael Schmidt & Partner GmbH | $241,168 | 2021-02-12 | Inactive | 561 days |
| Sun Odyssey 44i | 2011 | 45 | Palma Spain | De Valk Yacht Brokers | $140,699 | 2020-12-22 | Inactive | 208 days |
| 44i | 2011 | 45 | Pula Croatia | Master Nautika | $116,499 | 2020-12-19 | Inactive | 30 days |
| Sun Odyssey 44i | 2010 | 45 | Alimos, Greece | YD Yachts | $119,988 | 2020-12-07 | Inactive | 606 days |