40' 2004 Jeanneau Sun Odyssey 40.3
ATHENS GR
DBY Boat Sales
Sail Diesel 0
A$130,000
On Market:
78 days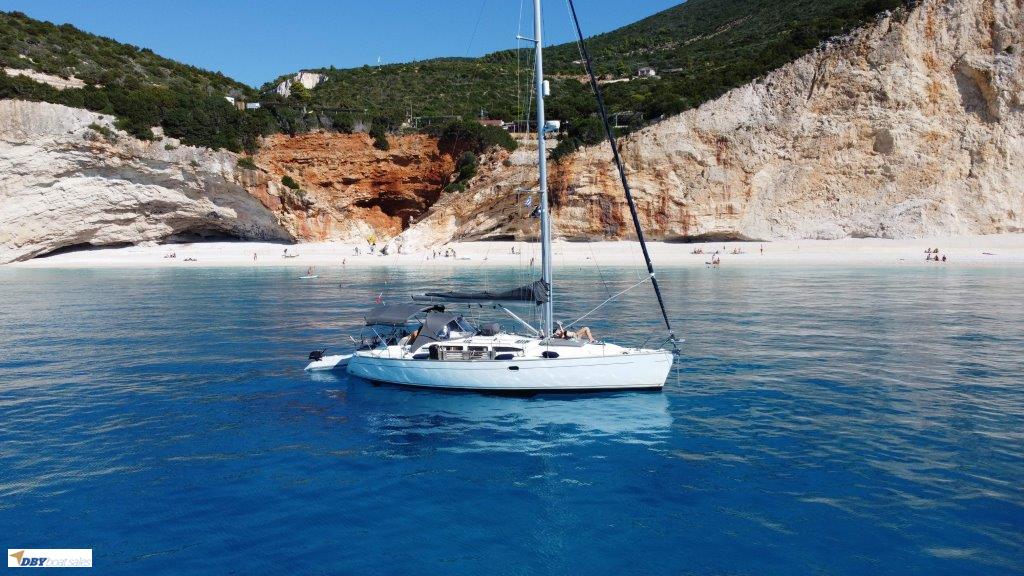 2004 3 cabin Jeanneau Sun Odyssey 40.3. Australian owned and British registered vessel located on the hardstand in Prevezza, Greece. A walk up start for an Australian couple or family to your dream Med cruise. She was bought last season by an Australian
Purchase More Information
Consult with the Buddha for $19.99. We have additional information available.
Price History
| Price | Date | Status |
| --- | --- | --- |
| ¤0 | 2022-12-16 | New |
| A$130,000 | 2022-12-16 | Active |
| A$130,000 | 2023-03-05 | Inactive |
Active Comparables
| Model | Year | Length | Location | Broker | Price | Date | Status | On Market |
| --- | --- | --- | --- | --- | --- | --- | --- | --- |
| Sun Odyssey 40.3 | 2004 | 40 | Isle Of Wight GB | Boatshed IOW | $110,000 | 2023-07-05 | Active | 158 days |
Sold Comparables
| Model | Year | Length | Location | Broker | Price | Date | Status | On Market |
| --- | --- | --- | --- | --- | --- | --- | --- | --- |
| Sun Odyssey 40.3 | 2005 | 40 | Plattsburgh US | VSF Yacht Services | $169,000 | 2023-07-11 | Probably Sold | 123 days |
| Sun Odyssey 40.3 | 2005 | 40 | Upon Request GR | Selymar Yachts | $79,800 | 2023-06-11 | Probably Sold | 385 days |
| Sun Odyssey 40.3 | 2004 | 40 | Green Cove Springs US | VSF Yacht Services | $190,000 | 2022-06-20 | Probably Sold | 113 days |
| Sun Odyssey 40.3 | 2005 | 40 | Waukegan, IL, United States | Larsen Marine | $102,900 | 2021-06-02 | Probably Sold | 727 days |
| Sun Odyssey 40 Ds | 2004 | 40 | Lisbon Portugal | Siroco Nautica SA | $95,168 | 2021-04-12 | Probably Sold | 125 days |
| 40.3 | 2005 | 40 | Saint Clair Shores MI United States | St. Clair Sailboat Center | $126,500 | 2021-02-27 | Probably Sold | 192 days |
| Sun Odyssey 40.3 | 2005 | 40 | Almerimar Spain | De Valk Yacht Brokers | $97,402 | 2020-03-19 | Probably Sold | 146 days |
| Sun Odyssey 40 3 | 2005 | 40 | Denison, TX, United States | Grandpappy Point Marina | $109,000 | 2019-07-24 | Sold | 104 days |
| So 40 3 | 2004 | 40 | Point Richmond, CA, United States | Passage Nautical | $138,500 | 2019-07-17 | Sold | 91 days |
| Sun Odyssey 40 | 2003 | 40 | South Ayrshire, United Kingdom | Euroyachts Ltd | $79,074 | 2019-01-08 | Sold | 152 days |
Inactive Comparables
| Model | Year | Length | Location | Broker | Price | Date | Status | On Market |
| --- | --- | --- | --- | --- | --- | --- | --- | --- |
| Sun Odyssey 40.3 | 2005 | 40 | Sukosan HR | White Whale Yachtbrokers | $119,500 | 2023-07-09 | Inactive | 87 days |
| Sun Odyssey 40.3 | 2005 | 40 | Valencia ES | Marine Team | $99,000 | 2023-03-09 | Inactive | 186 days |
| Sun Odyssey 40.3 | 2004 | 40 | ATHENS GR | DBY Boat Sales | $130,000 | 2023-03-05 | Inactive | 78 days |
| Sun Odyssey 40.3 | 2005 | 40 | SAVONA IT | Buggemi Yacht | $98,000 | 2023-01-31 | Inactive | 41 days |
| Sun Odyssey 40.3 | 2005 | 40 | Preveza GR | Navark Handels AB | $950,000 | 2022-08-28 | Inactive | 34 days |
| Sun Odyssey 40.3 | 2005 | 40 | Pensacola US | Legendary Marine Destin | $147,500 | 2022-08-19 | Inactive | 114 days |
| Sun Odyssey 40.3 | 2005 | 40 | Preveza GR | Navark Handels AB | $975,000 | 2022-04-01 | Inactive | 31 days |
| Sun Odyssey 40.3 | 2005 | 40 | Saint Cyprien 66 France | Lor Marine | $114,381 | 2020-12-20 | Inactive | -0 days |
| Sun Odyssey 40.3 | 2005 | 40 | Hartlepool United Kingdom | Ancasta International Boat Sales | $114,732 | 2020-12-07 | Inactive | 268 days |
| 40.3 | 2005 | 40 | Chicago, IL, United States | Larsen Marine | $118,900 | 2020-11-22 | Inactive | 486 days |