42' 2011 Princess 42 Flybridge
Bodrum TR
Marine Voyage Co.
Power Diesel 2
€309,000
On Market:
88 days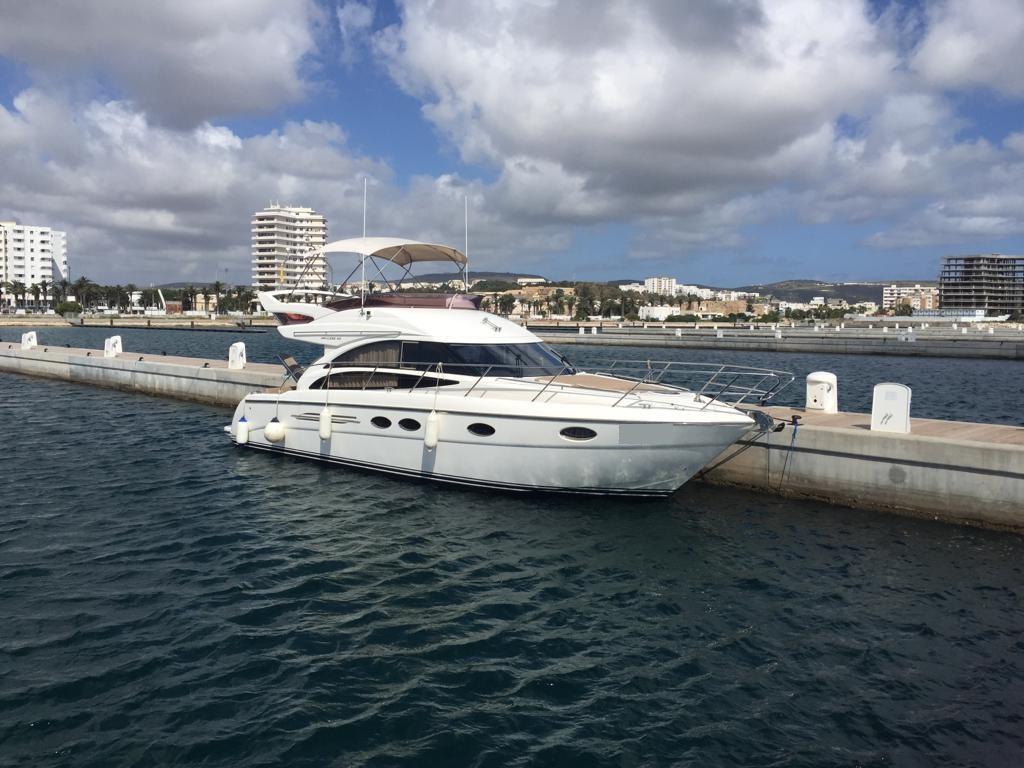 2011 Princess 42 FlybridgeShe has been a very popular model for many years, due to her size and practicality. Fitted with twin Volvo Penta D6-435 hp engines and a Mediterranean specification. The teak decking on the platform and in the cockpit present ver
Buddha Value
↑ $446,530
Purchase More Information
Consult with the Buddha for $9.99. We have additional information available.
Price History
| Price | Date | Status |
| --- | --- | --- |
| ¤0 | 2022-12-28 | New |
| €329,000 | 2022-12-28 | Active |
| €319,000 | 2023-02-11 | Reduced |
| €309,000 | 2023-03-14 | Reduced |
Active Comparables
| Model | Year | Length | Location | Broker | Price | Date | Status | On Market |
| --- | --- | --- | --- | --- | --- | --- | --- | --- |
| 42 Flybridge | 2011 | 42 | Bodrum TR | Marine Voyage Co. | $309,000 | 2023-03-14 | Reduced | 88 days |
Sold Comparables
| Model | Year | Length | Location | Broker | Price | Date | Status | On Market |
| --- | --- | --- | --- | --- | --- | --- | --- | --- |
| 42 | 2011 | 42 | Mylor, Falmouth GB | Ancasta Mylor | $349,000 | 2022-10-30 | Probably Sold | 101 days |
| Flybridge | 2011 | 42 | NB, Can | Sunnybrook Yachts | $479,000 | 2018-08-08 | Sold | 333 days |
| Flybridge | 2011 | 42 | FL, United States | HMY Yacht Sales, Inc. | $525,000 | 2018-05-08 | Sold | 545 days |
Inactive Comparables
| Model | Year | Length | Location | Broker | Price | Date | Status | On Market |
| --- | --- | --- | --- | --- | --- | --- | --- | --- |
| 42 Flybridge | 2011 | 42 | Bodrum TR | Marine Voyage Co. | $329,000 | 2023-01-05 | Inactive | 119 days |
| V42 | 2010 | 42 | Gold Coast AU | Yachtsmen International | $696,000 | 2022-11-22 | Inactive | 65 days |
| V39 | 2012 | 42 | Brirut LB | Chehab Marine | $275,000 | 2022-08-27 | Inactive | 181 days |
| V42 | 2011 | 42 | Mandelieu FR | Trawlers & Yachting | $349,000 | 2022-05-30 | Inactive | 29 days |
| V39 | 2012 | 42 | Lagos, Portugal | Bluewater Algarve | $368,590 | 2019-12-13 | Inactive | 246 days |
| V45 | 2010 | 42 | St Helier, Jersey | Quay Boat Sales Channel Islands | $316,481 | 2019-07-31 | Inactive | 111 days |
| 42 | 2012 | 42 | Freeport, NY, United States | Staten Island Yacht Sales | $399,000 | 2019-06-05 | Inactive | 55 days |