28' 1985 Bertram 28 Flybridge CRUISER
Saint Petersburg US
Tierra Verde Yacht Brokerage Inc.
Power Gasoline 0
$11,900
On Market:
61 days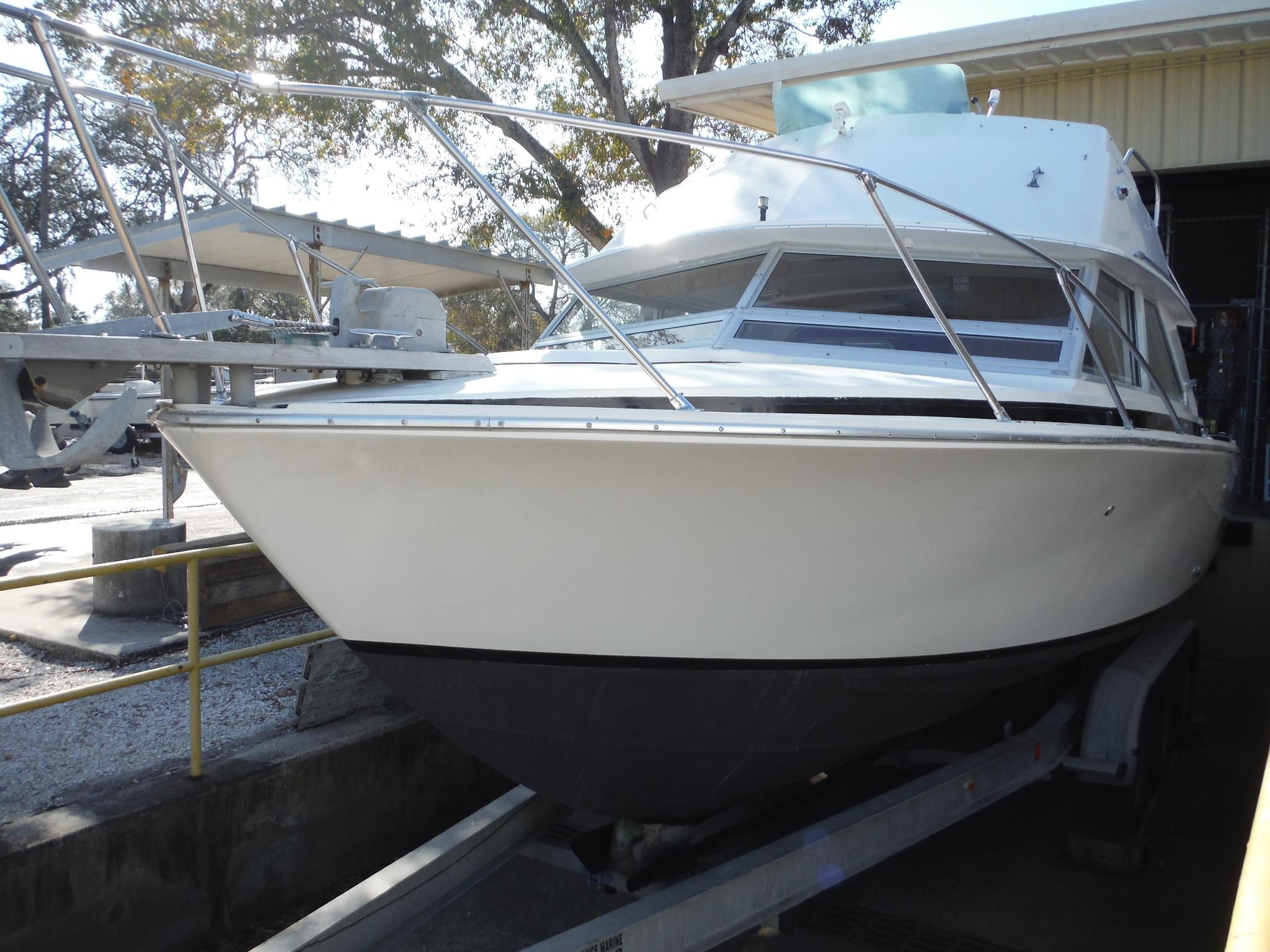 1985 28' Bertram on 3 axle aluminum float-on trailer. No Motor or Transmission. Running gear in place. Have all fiberglass floor & cockpit hatches. $12,000      NO Props, Ready for gas or diesel power, Clear title for boat,  All Information is Given In G
Buddha Value
↗ $14,633
Purchase More Information
Consult with the Buddha for $9.99. We have additional information available.
Price History
| Price | Date | Status |
| --- | --- | --- |
| ¤0 | 2023-01-24 | New |
| $12,900 | 2023-01-24 | Active |
| $11,900 | 2023-03-09 | Reduced |
Active Comparables
| Model | Year | Length | Location | Broker | Price | Date | Status | On Market |
| --- | --- | --- | --- | --- | --- | --- | --- | --- |
| Flybridge Cruiser | 1986 | 28 | St Petersburg US | Professional Yacht Sales International | $31,999 | 2023-02-25 | Reduced | 64 days |
| 28 Flybridge CRUISER | 1985 | 28 | Wareham US | South Shore Dry Dock Marine, Inc. | $24,900 | 2023-02-27 | Active | 27 days |
| 28 Flybridge CRUISER | 1985 | 28 | Saint Petersburg US | Tierra Verde Yacht Brokerage Inc. | $11,900 | 2023-03-09 | Reduced | 61 days |
Sold Comparables
| Model | Year | Length | Location | Broker | Price | Date | Status | On Market |
| --- | --- | --- | --- | --- | --- | --- | --- | --- |
| 28 Flybridge New Engines | 1984 | 28 | Mystic CT United States | Jensen Yacht Sales | $21,900 | 2021-06-02 | Probably Sold | 228 days |
| 28 Fb Cruiser New Motors | 1986 | 28 | Hampton Bays NY United States | Global One Yacht Sales | $40,500 | 2020-06-02 | Probably Sold | 20 days |
| Flybridge Cruiser | 1986 | 28 | North Falmouth, MA, United States | Chesapeake Nautical Cruises, LLC | $6,000 | 2019-10-10 | Sold | 125 days |
| 28 Flybridge New Engines | 1984 | 28 | Â Â Old Saybrook , CT | Jensen Yacht Sales | $24,900 | 2019-05-17 | Sold | 66 days |
| 28 Flybridge Cruiser II | 1986 | 28 | MI, United States | Temptation Yacht Sales, Inc | $24,900 | 2018-08-08 | Sold | 180 days |
| Flybridge Fisherman | 1984 | 28 | FL, United States | Admiral Yacht Sales | $18,900 | 2018-03-08 | Sold | 58 days |
Inactive Comparables
| Model | Year | Length | Location | Broker | Price | Date | Status | On Market |
| --- | --- | --- | --- | --- | --- | --- | --- | --- |
| 28 Flybridge CRUISER | 1985 | 28 | Falmouth US | Oyster Harbors Marine | $39,900 | 2022-08-10 | Inactive | 162 days |
| 28 Fly | 1985 | 28 | Liguria Italy | Walter Yacht Broker | $65,230 | 2020-09-10 | Inactive | -0 days |
| 28 Flybridge | 1986 | 28 | Little Compton RI United States | Denison Yachting | $59,900 | 2020-08-30 | Inactive | -0 days |
| 28 Flybridge | 1986 | 28 | Yarmouth ME United States | Casco Bay Yacht Sales | $21,900 | 2020-08-15 | Inactive | -0 days |
| Bahia Mar | 1986 | 28 | Pompano Beach FL United States | Coastline Yacht & Marine, Inc. d/b/a Marine Unlimited | $8,900 | 2020-06-20 | Inactive | 183 days |
| 28 Fb Cruiser New Motors | 1986 | 28 | Hampton Bays NY United States | Global One Yacht Sales | $44,950 | 2020-05-01 | Inactive | -0 days |
| 28 Fb Cruiser New Motors | 1986 | 28 | Hampton Bays, NY, United States | Global One Yacht Sales | $47,000 | 2020-03-24 | Inactive | 249 days |
| 28 Flybridge Cruiser | 1984 | 28 | Atlantic City, NJ, United States | Brightwater Yacht Brokers Inc. | $28,500 | 2020-01-05 | Inactive | 268 days |
| 28 Flybridge Cruiser | 1986 | 28 | Hampton Bays, NY, United States | East Island Yacht Sales, LLC | $67,800 | 2019-07-18 | Inactive | 97 days |
| 28 Flybridge CRUISER | 1986 | 28 | Â Â Port Clinton, OH | Catawba Moorings | $24,900 | 2019-04-17 | Inactive | 36 days |