20' 2019 Bayliner VR5
Louisville US
Sea Ray Of Louisville
Power Gasoline 0
$35,995
On Market:
61 days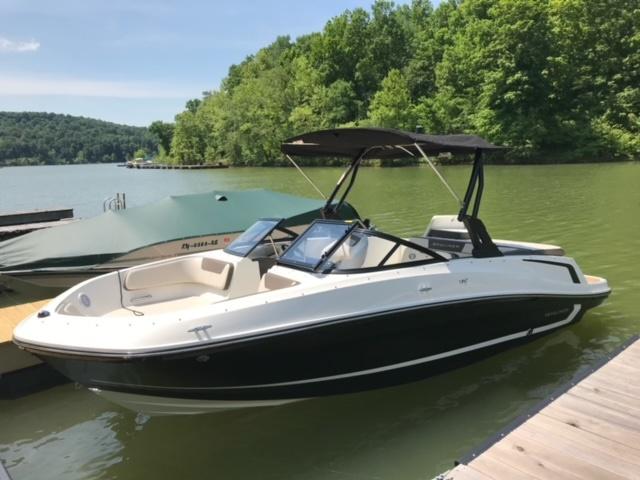 2019 Bayliner VR5 powered by Mercruiser 4. MPI 200hp. Includes bow and cockpit covers, tower with bimini, sport seating, Karavan trailer and more. All trades considered.
Buddha Value
↗ $41,828
Purchase More Information
Consult with the Buddha for $9.99. We have additional information available.
Price History
| Price | Date | Status |
| --- | --- | --- |
| ¤0 | 2023-01-24 | New |
| $35,995 | 2023-01-24 | Active |
Active Comparables
| Model | Year | Length | Location | Broker | Price | Date | Status | On Market |
| --- | --- | --- | --- | --- | --- | --- | --- | --- |
| VR5 Cuddy | 2020 | 20 | Cala DOr ES | PORTO PETRO LIVING SL | $59,000 | 2022-07-22 | Active | 247 days |
| VR 5 Cuddy | 2020 | 20 | ISTANBUL TR | Nautique Yachting | $51,500 | 2022-10-21 | Active | 156 days |
| VR5 | 2019 | 20 | Southampton GB | Aspire Boat Sales Ltd | $44,950 | 2023-03-04 | Active | 22 days |
| VR 5 | 2020 | 20 | Fox Lake US | Spring Brook Marina | $38,000 | 2022-08-23 | Reduced | 282 days |
| VR5 | 2018 | 20 | Bowness-on-Windermere GB | Horizon Boat Sales Ltd | $37,995 | 2022-09-04 | Active | 203 days |
| VR5 | 2019 | 20 | Louisville US | Sea Ray Of Louisville | $35,995 | 2023-01-24 | Active | 61 days |
| VR5 OB | 2019 | 20 | Fort Lauderdale US | InterMarine | $35,500 | 2023-01-27 | Reduced | 99 days |
Sold Comparables
| Model | Year | Length | Location | Broker | Price | Date | Status | On Market |
| --- | --- | --- | --- | --- | --- | --- | --- | --- |
| VR5 | 2018 | 20 | Lower Swanwick GB | Global Yacht Brokers | $29,500 | 2023-01-10 | Probably Sold | 125 days |
| Vr5 Bowrider I/o | 2020 | 20 | Grant AL United States | Erwin Marine | $34,900 | 2022-02-21 | Probably Sold | 633 days |
| 20-vr5 | 2020 | 20 | Pewaukee WI United States | SkipperBud's | $1 | 2022-02-20 | Probably Sold | 736 days |
| Vr6 Cuddy | 2020 | 20 | Balloch S11 United Kingdom | Marine Sales Scotland | $59,895 | 2022-02-20 | Probably Sold | 616 days |
| Vr5 Bowrider Ob | 2019 | 20 | Bellingham, WA, United States | Union Marine | $42,446 | 2022-02-17 | Probably Sold | 1044 days |
| Vr5 Cuddy | 2020 | 20 | Chertsey E38 United Kingdom | Bates Wharf | $66,393 | 2020-10-12 | Probably Sold | 353 days |
| Vr5 Bow Rider | 2020 | 20 | Balloch S11 United Kingdom | Marine Sales Scotland | $54,035 | 2020-09-30 | Probably Sold | 265 days |
| Vr5 Bowrider | 2020 | 20 | Chertsey E38 United Kingdom | Bates Wharf - HQ | $56,369 | 2020-09-05 | Probably Sold | 316 days |
| Vr5 Cuddy | 2020 | 20 | Poole E12 United Kingdom | Bates Wharf - HQ | $62,347 | 2020-07-10 | Probably Sold | 259 days |
| 20-vr5 | 2020 | 20 | Walworth WI United States | SkipperBud's | $1 | 2020-06-29 | Probably Sold | 100 days |
Inactive Comparables
| Model | Year | Length | Location | Broker | Price | Date | Status | On Market |
| --- | --- | --- | --- | --- | --- | --- | --- | --- |
| VR5 | 2018 | 20 | Antioch US | SkipperBud's - Sequoit Harbor | $32,995 | 2023-03-01 | Inactive | 180 days |
| DX 2050 | 2019 | 20 | Chattanooga US | Chattanooga Office | $39,500 | 2023-02-18 | Inactive | 243 days |
| VR 5 | 2018 | 20 | Burnaby CA | M & P Yacht Centre | $51,000 | 2022-11-17 | Inactive | 81 days |
| VR5E Bowrider | 2020 | 20 | Split HR | Marine House Arcadia | $53,000 | 2022-11-14 | Inactive | 190 days |
| VR 5 | 2019 | 20 | Gig Harbor US | NW Yachtnet Gig Harbor | $36,900 | 2022-11-13 | Inactive | 32 days |
| VR5 OB | 2019 | 20 | South Portland US | Port Harbor Marine - South Portland, ME | $29,995 | 2022-10-27 | Inactive | 47 days |
| VR5 | 2018 | 20 | Seget Donji HR | Baotic Yachting GmbH | $33,990 | 2022-10-15 | Inactive | 141 days |
| VR5 Bowrider I/O | 2018 | 20 | Fife US | Union Marine | $38,000 | 2022-10-13 | Inactive | 39 days |
| VR5 | 2019 | 20 | Fort Lauderdale US | InterMarine | $39,999 | 2022-10-04 | Inactive | 143 days |
| VR5 | 2019 | 20 | Cincinnati US | Sea Ray of Cincinnati | $36,995 | 2022-10-02 | Inactive | 30 days |