43' 1996 Carver 43 CPMY
North Charleston US
Certified Sales - St George, SC
Power Diesel 2
$29,000
On Market:
59 days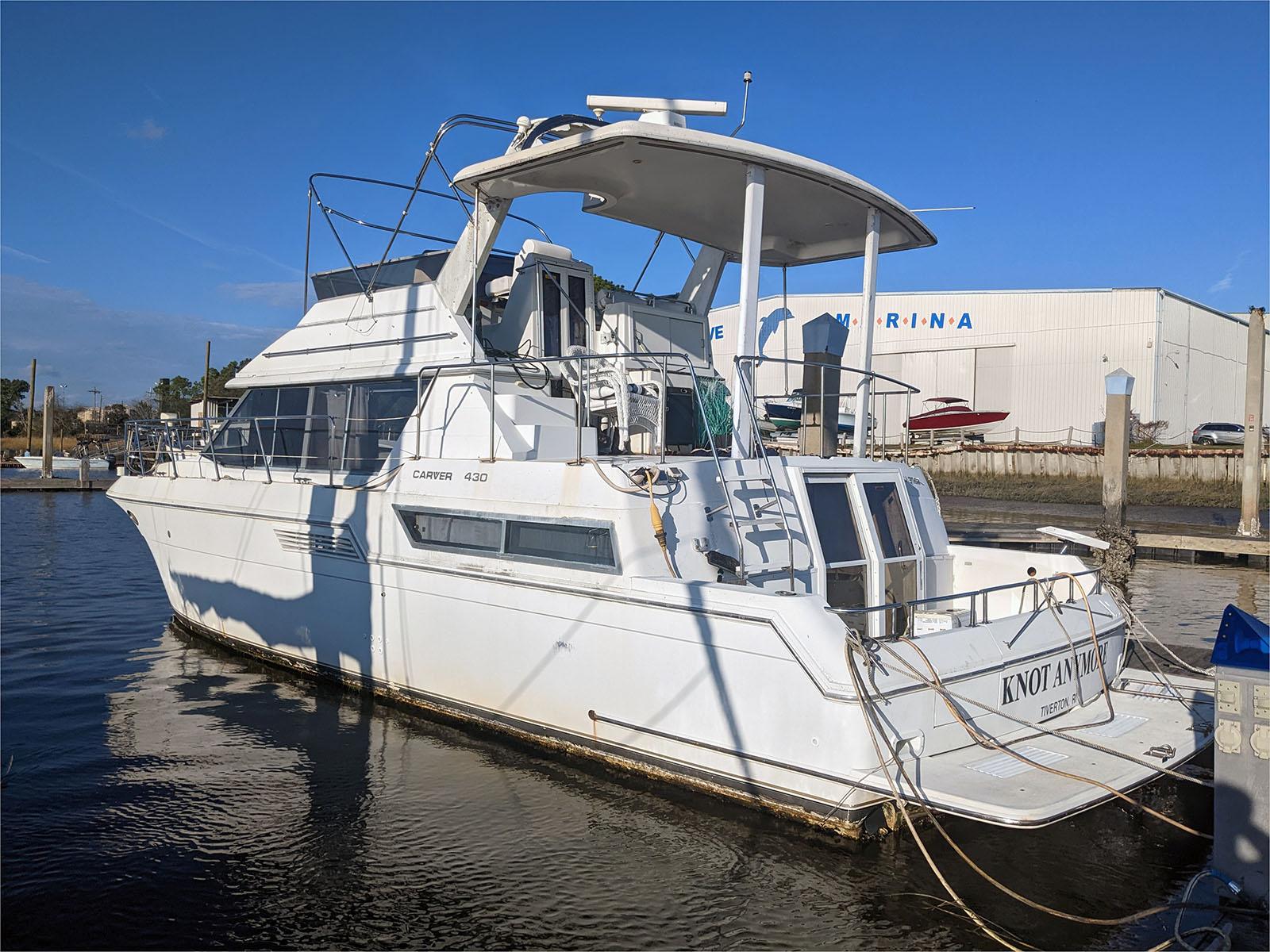 "CURRENT PRICE" IS A GUIDE.  ALL OFFERS RESPECTFULLY CONSIDERED. General DescriptionManufacturer Provided DescriptionThe Carver 430 Cockpit Motor Yacht features a luxurious master stateroom, with a large inner-spring berth and private head compartment co
Buddha Value
↑ $69,397
Purchase More Information
Consult with the Buddha for $9.99. We have additional information available.
Price History
| Price | Date | Status |
| --- | --- | --- |
| ¤0 | 2023-01-26 | New |
| $29,000 | 2023-01-26 | Active |
Active Comparables
| Model | Year | Length | Location | Broker | Price | Date | Status | On Market |
| --- | --- | --- | --- | --- | --- | --- | --- | --- |
| 43 CPMY | 1996 | 43 | North Charleston US | Certified Sales - St George, SC | $29,000 | 2023-01-26 | Active | 59 days |
Sold Comparables
| Model | Year | Length | Location | Broker | Price | Date | Status | On Market |
| --- | --- | --- | --- | --- | --- | --- | --- | --- |
| 430 Motor Yacht | 1995 | 43 | Annapolis US | Bluewater Yacht Sales, LLC- Annapolis Office | $88,900 | 2022-11-05 | Probably Sold | 100 days |
| 430 Cockpit Motor Yacht | 1997 | 43 | Knoxville US | Yachts360 | $144,500 | 2022-10-24 | Probably Sold | 241 days |
| 400 Cockpit Motor Yacht | 1997 | 43 | Hilton Head Island US | Mark Zeigler Yacht Sales, Inc. | $79,900 | 2022-08-15 | Probably Sold | 121 days |
| Cockpit Aft Cabin Motor Yacht | 1997 | 43 | Lynn, MA, United States | JT Yacht Sales | $90,000 | 2020-06-16 | Probably Sold | 432 days |
| 430 Cockpit Motor Yacht | 1997 | 43 | TN, United States | Yachts Unlimited | $129,000 | 2018-03-08 | Sold | 698 days |
| 430 Cockpit Motoryacht | 1995 | 43 | FL, United States | Fillingham Yacht Sales | $77,500 | 2018-01-08 | Sold | 213 days |
Inactive Comparables
| Model | Year | Length | Location | Broker | Price | Date | Status | On Market |
| --- | --- | --- | --- | --- | --- | --- | --- | --- |
| 430 Cockpit Motor Yacht | 1997 | 43 | Midland ON Canada | United City Yachts Inc. | $147,284 | 2022-02-19 | Inactive | 772 days |
| 43 Cockpit Motor Yacht | 1995 | 43 | Corpus Christi, TX, United States | Sea Lake Yachts LLC | $84,650 | 2020-08-10 | Inactive | 450 days |
| 430 Cockpit Motor Yacht | 1996 | 43 | Muskegon, MI, United States | Ludington Yacht Sales | $89,900 | 2020-06-28 | Inactive | 360 days |
| 430 Motor Yacht | 1996 | 43 | Slidell, LA, United States | Whelton Marine Brokerage | $114,900 | 2020-02-13 | Inactive | 168 days |
| 430 Motor Yacht | 1996 | 43 | New Bern, NC, United States | Beaufort Yacht Sales | $69,000 | 2020-01-19 | Inactive | 283 days |
| Cockpit Motor Yacht | 1996 | 43 | Rockport TX United States | Fox Yacht Sales-Four Gulf Coast Locations | $89,000 | 2019-10-24 | Inactive | -0 days |
| 430 Motor Yacht | 1995 | 43 | TN, United States | Gulf Coast Yacht Group | $99,900 | 2019-10-20 | Inactive | 191 days |
| 430 Cockpit My | 1997 | 43 | Penetanguishene, ON, Canada | Georgian Harbour Yacht Sales Inc. | $164,885 | 2019-09-11 | Inactive | 90 days |
| 430 Cockpit Motor Yacht | 1997 | 43 | Fort Lauderdale, FL, United States | Frank Gordon Yacht Sales | $107,500 | 2019-08-14 | Inactive | 124 days |
| 430 Cockpit Motor Yacht | 1997 | 43 | Denison, TX, United States | Grandpappy Point Marina | $98,500 | 2019-05-06 | Inactive | 24 days |