40' 1989 C&C 41
San Carlos MX
Pacific Boat Brokers Inc.
Sail Diesel 1
$26,500
On Market:
59 days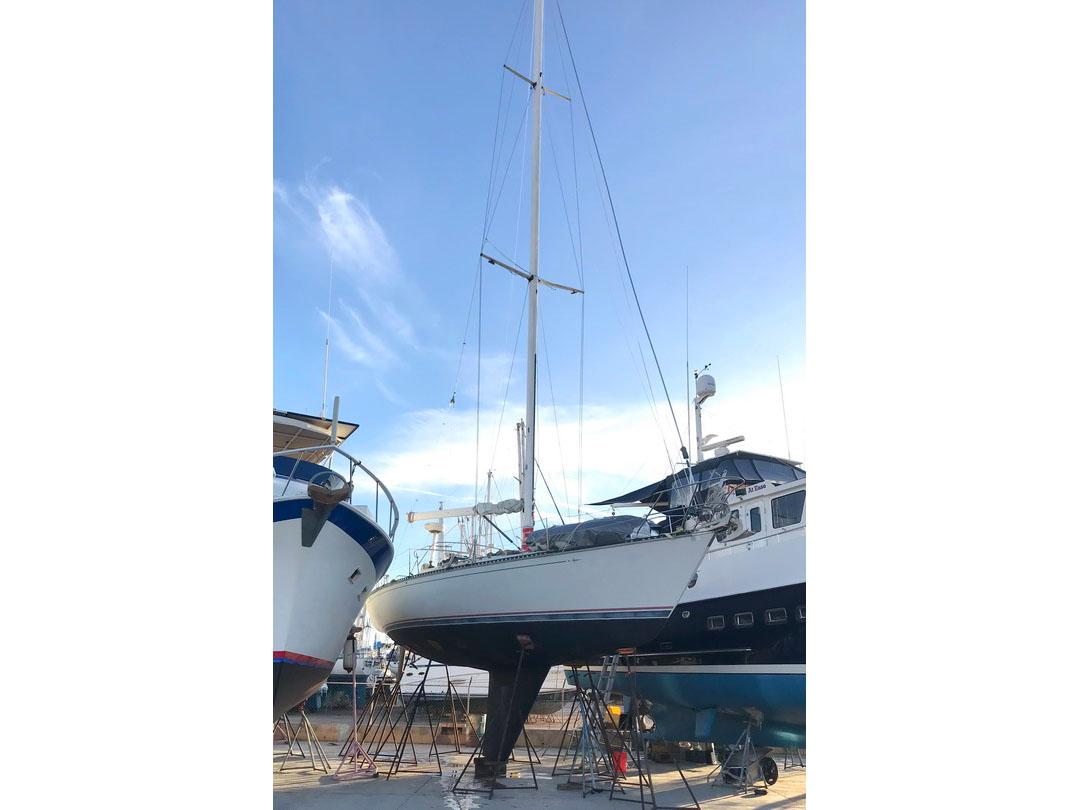 USA Registered. The C&C 41 brings a blend of high performance sailing and spacious accommodations down below. Sherrie L is for sale for a big discount, as she has been in storage. Lots and lots of equipment but will need some TLC such as: paint top decks,
Buddha Value
↑ $40,110
Purchase More Information
Consult with the Buddha for $9.99. We have additional information available.
Price History
| Price | Date | Status |
| --- | --- | --- |
| ¤0 | 2023-01-26 | New |
| $26,500 | 2023-01-26 | Active |
Active Comparables
| Model | Year | Length | Location | Broker | Price | Date | Status | On Market |
| --- | --- | --- | --- | --- | --- | --- | --- | --- |
| 37+ | 1989 | 40 | Niagara On The Lake CA | Pat Sturgeon Yachts Ltd. | 82900 | 2022-09-09 | Reduced | 340 days |
| 41 | 1989 | 40 | San Carlos MX | Pacific Boat Brokers Inc. | 26500 | 2023-01-26 | Active | 59 days |
Sold Comparables
| Model | Year | Length | Location | Broker | Price | Date | Status | On Market |
| --- | --- | --- | --- | --- | --- | --- | --- | --- |
| 40/ 37 Plus | 1989 | 40 | Québec QC Canada | Boulet Lemelin Yacht | 98902 | 2021-04-12 | Probably Sold | 169 days |
| 37/40 Plus | 1990 | 40 | East Greenwich, RI, United States | David Walters Yachts | 69500 | 2020-05-12 | Probably Sold | 397 days |
| 40/ 37 Plus | 1989 | 40 | Â Â QUEBEC, QC, Can | Boulet Lemelin Yacht | 97692 | 2019-11-18 | Sold | 251 days |
| 37 40 | 1990 | 40 | Â Â Superior, WI | Barker's Island Marina | 34500 | 2019-05-23 | Sold | -54 days |
| 37/40R | 1990 | 40 | ON, Can | Able YachtPro | 18598 | 2018-08-08 | Sold | 2343 days |
| 37/40 | 1989 | 40 | BC, Can | Custom Yacht Sales Ltd. | 59438 | 2018-05-08 | Sold | 241 days |
| 37R | 1989 | 40 | ON, Can | Anchor Yacht Sales | 42328 | 2018-05-08 | Sold | 303 days |
Inactive Comparables
| Model | Year | Length | Location | Broker | Price | Date | Status | On Market |
| --- | --- | --- | --- | --- | --- | --- | --- | --- |
| 37-40 | 1990 | 40 | Oudorp Netherlands | GT Yachtbrokers | 83794 | 2020-12-05 | Inactive | -0 days |
| 37 Plus | 1989 | 40 | Sarnia ON Canada | Harris & Ellis Yachts | 68265 | 2020-02-22 | Inactive | 120 days |
| 37/40 | 1989 | 40 | Guaymas, SONORA, Mexico | United Yacht Sales | 59900 | 2019-11-01 | Inactive | 204 days |