36' 2021 Beneteau Gran Turismo 36
Swanwick Marina, Southampton GB
Ancasta Swanwick
Power Diesel 2
£325,000
On Market:
201 days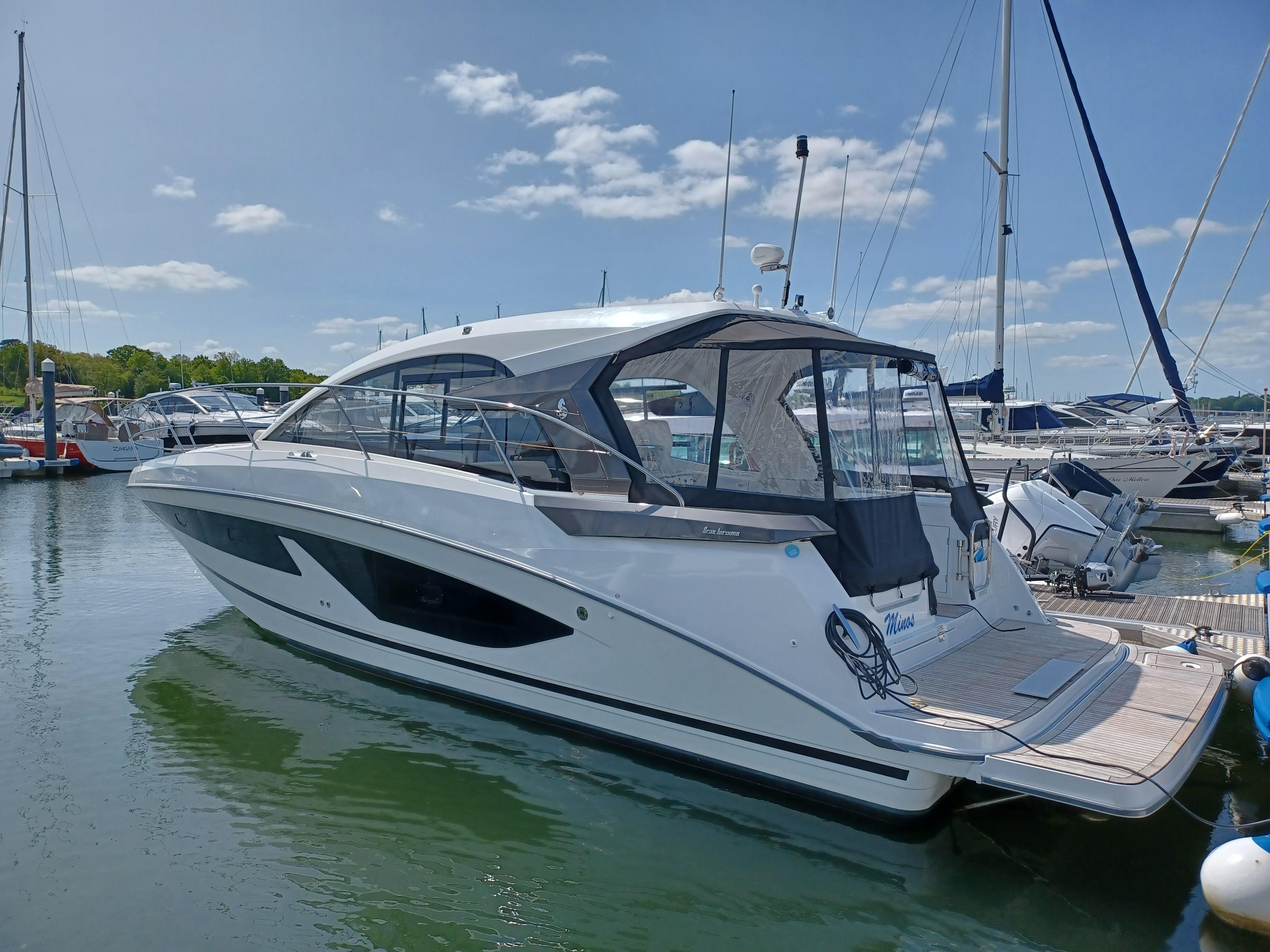 Beautiful example of the fabulous Beneteau Gran Turismo 36. The exterior deck layout is fully optimised for comfort and entertaining on board. Two bench seats face forward at the helm station, so four people can enjoy the thrills of being underway. The el
Buddha Value
No Value Available
Purchase More Information
Consult with the Buddha for $19.99. We have additional information available.
Price History
| Price | Date | Status |
| --- | --- | --- |
| ¤0 | 2023-05-22 | New |
| £345,000 | 2023-05-22 | Active |
| £325,000 | 2023-09-22 | Sale Pending |
Active Comparables
| Model | Year | Length | Location | Broker | Price | Date | Status | On Market |
| --- | --- | --- | --- | --- | --- | --- | --- | --- |
| Antarès 11 | 2022 | 36 | Sorel-Tracy CA | Boisvert Marine | $649,995 | 2023-07-11 | Reduced | 438 days |
| Gran Turismo 36 | 2020 | 36 | San Diego US | South Coast Yachts | $559,000 | 2023-05-19 | Reduced | 327 days |
| Antarès 11 | 2021 | 36 | Montréal CA | Ita Yachts Canada Inc. | $478,800 | 2023-07-21 | Active | 141 days |
| Gran Turismo GT36 Outboard | 2020 | 36 | Fort Lauderdale US | Denison Yachting | $474,900 | 2023-05-24 | Reduced | 280 days |
| Antarès 11 | 2022 | 36 | Sarasota US | Viage Group | $434,900 | 2023-06-03 | Active | 189 days |
| Antarès 11 | 2022 | 36 | Dubai AE | The Yacht Portal | $420,000 | 2023-02-11 | Active | 301 days |
| Antares 11 | 2022 | 36 | Sarasota US | Viage Group | $415,930 | 2023-09-16 | Reduced | 125 days |
| Antarès 11 | 2022 | 36 | DUBAI AE | TAN Services | $400,000 | 2023-02-09 | Reduced | 581 days |
| Antarès 11 | 2022 | 36 | France FR | AVENTURA Boats | $347,646 | 2022-11-24 | Increased | 425 days |
| Gran Turismo 36 | 2021 | 36 | Swanwick Marina, Southampton GB | Ancasta Swanwick | $325,000 | 2023-09-22 | Sale Pending | 201 days |
Sold Comparables
| Model | Year | Length | Location | Broker | Price | Date | Status | On Market |
| --- | --- | --- | --- | --- | --- | --- | --- | --- |
| Antares 11 Fly | 2022 | 36 | Eastbourne GB | Bates Wharf - Eastbourne Office | $358,332 | 2023-08-07 | Probably Sold | 194 days |
| Antarès 11 | 2022 | 36 | Southampton GB | Bates Wharf - Eastbourne Office | $300,000 | 2023-07-07 | Probably Sold | 280 days |
| Antarès 11 | 2022 | 36 | Longboat Key US | Viage Group | $439,750 | 2023-03-21 | Probably Sold | 88 days |
| Antares 11 | 2021 | 36 | Eastbourne E14 United Kingdom | Bates Wharf | $375,795 | 2022-02-22 | Probably Sold | 396 days |
| Antares 11 Ob | 2022 | 36 | Burnaby BC Canada | M & P Mercury | $439,161 | 2021-06-24 | Probably Sold | 286 days |
| Antares 11 Ob | 2022 | 36 | Vancouver BC Canada | M & P Mercury | $422,674 | 2021-05-22 | Probably Sold | 170 days |
Inactive Comparables
| Model | Year | Length | Location | Broker | Price | Date | Status | On Market |
| --- | --- | --- | --- | --- | --- | --- | --- | --- |
| Antarès 11 | 2021 | 36 | Saint-Mathias-sur-Richelieu CA | Mathias Marine | $479,900 | 2023-07-30 | Inactive | 182 days |
| Antares 11 Fly | 2022 | 36 | Greystones IE | BJ Marine (Dublin) | $329,000 | 2023-06-28 | Inactive | 252 days |
| Antarès 11 | 2022 | 36 | MANILA PH | Europa Yachts | $0 | 2023-06-19 | Inactive | 61 days |
| Antares 11 | 2021 | 36 | Fort Lauderdale US | Nautical Ventures-Fort Lauderdale | $399,000 | 2023-06-11 | Inactive | 72 days |
| Antarès 11 | 2020 | 36 | Hong Kong HK | Simpson Marine - Hong Kong | $250,000 | 2023-06-08 | Inactive | 109 days |
| Antares 11 Fly | 2022 | 36 | CANNES FR | BOATS AND YACHT SL | $326,000 | 2023-05-19 | Inactive | 91 days |
| Antarès 11 | 2021 | 36 | Sturgeon Bay US | CenterPointe Yacht Sales | $395,000 | 2023-05-15 | Inactive | 61 days |
| Antares 11 Fly | 2021 | 36 | Cannes FR | Cap Boat | $322,000 | 2023-05-07 | Inactive | 79 days |
| BENETEAU ANTARES 11 FLY | 2022 | 36 | ES | Cap Boat | $326,000 | 2023-05-01 | Inactive | 58 days |
| Antarès 11 | 2021 | 36 | Miami Beach US | Formula Boats | $399,900 | 2023-02-02 | Inactive | 82 days |