44' 1997 Sea Ray 440 Express Bridge
Sturgeon Bay US
Weber Yachts
Power Diesel 2
$135,000
On Market:
100 days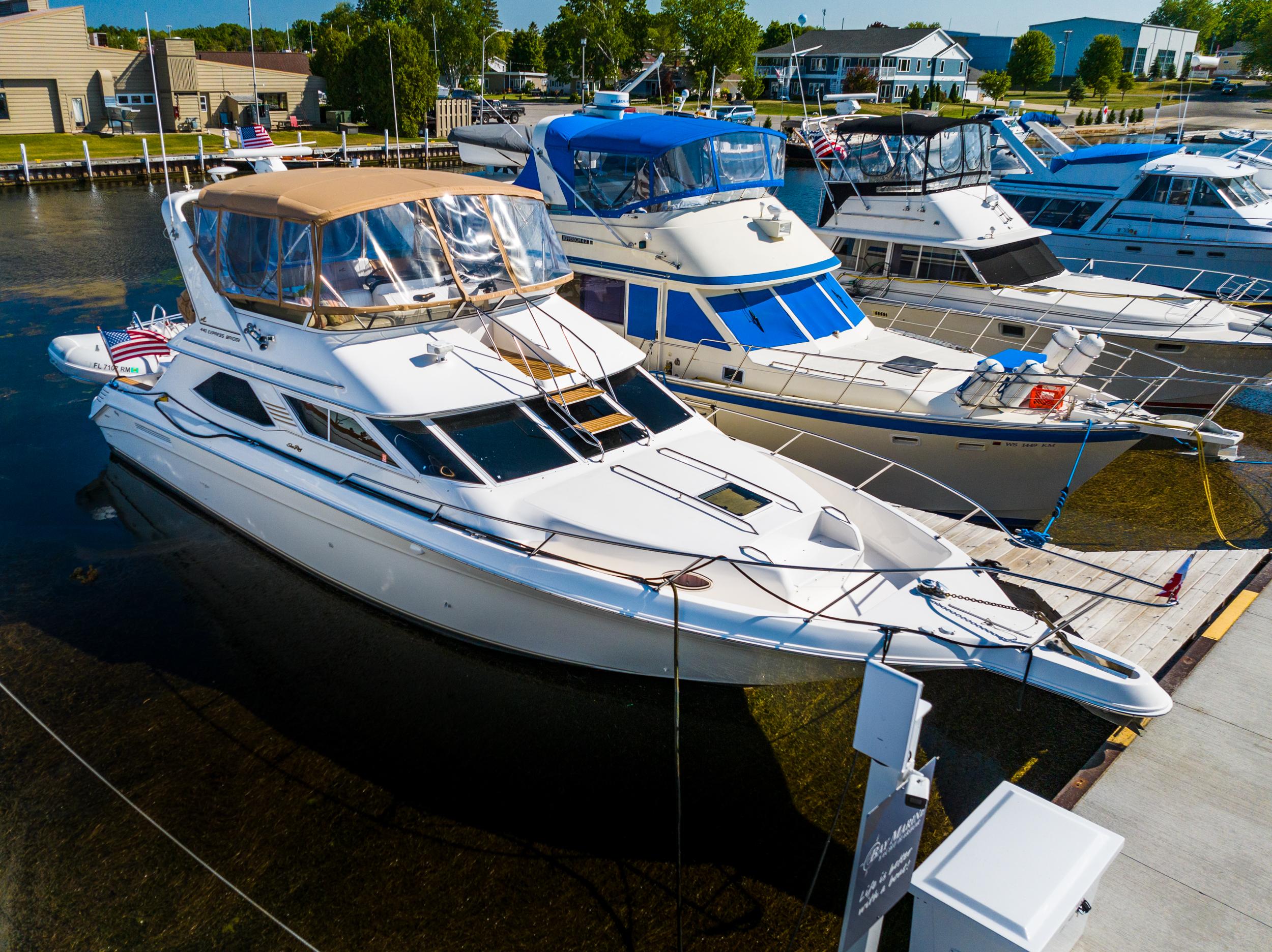 The low-profile, Sea Ray 440 Express Bridge features a huge, wide-open, full beam interior floor plan mostly all on a single level with an innovative second stateroom and head located below the salon. There are molded stairs up to the large flybridge area
Purchase More Information
Consult with the Buddha for $19.99. We have additional information available.
Price History
| Price | Date | Status |
| --- | --- | --- |
| ¤0 | 2023-06-13 | New |
| $135,000 | 2023-06-13 | Active |
| $135,000 | 2023-09-22 | Inactive |
Active Comparables
| Model | Year | Length | Location | Broker | Price | Date | Status | On Market |
| --- | --- | --- | --- | --- | --- | --- | --- | --- |
| 440 Express Bridge | 1997 | 44 | Warwick US | Offshore Yacht Sales, LTD | $119,900 | 2023-03-26 | Reduced | 401 days |
| 400 Sundancer | 1997 | 44 | Miami US | HMY Yacht Sales - Miami Beach Marina | $119,000 | 2022-11-30 | Active | 375 days |
| 440 EB | 1996 | 44 | Melbourne US | Yacht Masters | $99,500 | 2023-09-01 | Reduced | 242 days |
Sold Comparables
| Model | Year | Length | Location | Broker | Price | Date | Status | On Market |
| --- | --- | --- | --- | --- | --- | --- | --- | --- |
| Express Cruiser | 1997 | 44 | Gulfport US | Bay Point Yacht Brokerage LLC | $74,500 | 2023-04-17 | Probably Sold | 72 days |
| 400 Sundancer | 1997 | 44 | Kimberling City US | Atlanta Boat Broker | $119,900 | 2023-01-03 | Probably Sold | 144 days |
| 440 Express Bridge | 1996 | 44 | San Diego CA United States | Brokaw Yacht Sales | $119,500 | 2020-06-30 | Probably Sold | 22 days |
| 440 Express Bridge | 1996 | 44 | Seabrook, TX, United States | Little Yacht Sales | $89,999 | 2020-06-27 | Probably Sold | 457 days |
| 440 Express Bridge | 1996 | 44 | Kemah TX United States | Little Yacht Sales | $89,000 | 2020-06-22 | Probably Sold | 241 days |
| 44 Express Bridge | 1998 | 44 | Midland ON Canada | Wheeler Yacht Sales | $115,000 | 2020-06-14 | Probably Sold | 101 days |
| 440 Express Bridge | 1996 | 44 | Decaturville TN United States | Captain's Choice of Pickwick | $97,500 | 2020-06-12 | Probably Sold | 79 days |
| 440 Express Bridge Diesels Updated | 1996 | 44 | Pompano Beach, FL | Adventure Yachts | $84,900 | 2019-04-03 | Sold | 6 days |
| 440 Express Bridge | 1998 | 44 | FL,United States | The Yacht Brokerage | $80,000 | 2019-03-15 | Sold | 150 days |
| Sundancer | 1998 | 44 | FL,United States | Denison Yachting | $99,000 | 2019-02-15 | Sold | 456 days |
Inactive Comparables
| Model | Year | Length | Location | Broker | Price | Date | Status | On Market |
| --- | --- | --- | --- | --- | --- | --- | --- | --- |
| 440 Express Bridge | 1997 | 44 | Sturgeon Bay US | Weber Yachts | 135000 | 2023-09-22 | Inactive | 100 days |
| Express Bridge 44 | 1997 | 44 | Miami US | Biagio Yachts | 129000 | 2023-07-30 | Inactive | 268 days |
| 400 Sedan Bridge | 1997 | 44 | Clifton US | Pickwick Yacht Brokers, LLC | 139900 | 2023-07-23 | Inactive | 38 days |
| 400 Sedan Bridge | 1996 | 44 | Hendersonville US | Jim V. Marine Sales LLC | 118500 | 2023-06-24 | Inactive | 127 days |
| 400 Sundancer | 1998 | 44 | Osage Beach US | Mid-Missouri Yachts, LLC | 129900 | 2023-04-08 | Inactive | 237 days |
| 440 Express Bridge | 1998 | 44 | Orillia CA | United City Yachts inc. | 149900 | 2022-10-03 | Inactive | 35 days |
| 440 Express Bridge | 1997 | 44 | Harrison Township US | Dunigan Marine Group | 99000 | 2022-07-23 | Inactive | 30 days |
| 440 Express Bridge | 1997 | 44 | Harrison Township US | Dunigan Marine Group | 99000 | 2022-05-28 | Inactive | 88 days |
| 440 Express Br | 1997 | 44 | Bay City MI United States | SkipperBud's | 89889 | 2022-02-20 | Inactive | 709 days |
| 400 Db | 1998 | 44 | On Request Croatia | Blu Yachting | 146634 | 2022-02-15 | Inactive | 844 days |