22' 2024 Bayliner VR 6
Louisville US
Sea Ray Of Louisville
Power Gasoline 0
$68,085
On Market:
129 days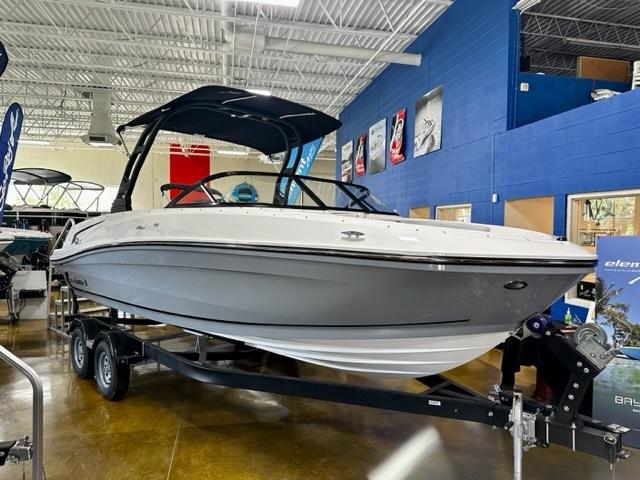 2024 Bayliner VR6 powered by Mercruiser 4.5L MPI 250hp. Includes ProArc tower with top, Stainless Upgrade Package, Interior Lighting Package, bow and cockpit covers, gray mat flooring, windshield with opening, depth finder, Vessel View mobile, Karavan tra
Buddha Value
No Value Available
Purchase More Information
Consult with the Buddha for $19.99. We have additional information available.
Price History
| Price | Date | Status |
| --- | --- | --- |
| ¤0 | 2023-08-02 | New |
| ¤0 | 2023-08-02 | Hidden |
| $68,085 | 2023-09-22 | Active |
Active Comparables
| Model | Year | Length | Location | Broker | Price | Date | Status | On Market |
| --- | --- | --- | --- | --- | --- | --- | --- | --- |
| VR6 Cuddy | 2023 | 22 | Chertsey GB | Bates Wharf - HQ | 88950 | 2023-09-28 | Increased | 282 days |
| VR6 Cuddy | 2023 | 22 | Poole GB | Bates Wharf - Poole Office | 85950 | 2023-03-01 | Reduced | 323 days |
| VR6 Cuddy | 2023 | 22 | Chertsey GB | Bates Wharf - HQ | 83750 | 2023-03-02 | Active | 282 days |
| VR6OB | 2024 | 22 | Burnaby CA | M & P Yacht Centre | 78977 | 2023-07-06 | Active | 156 days |
| 2250 DX | 2023 | 22 | Pewaukee US | SkipperBud's Pewaukee | 73842 | 2023-05-12 | Active | 211 days |
| Trophy 22 | 2023 | 22 | Marblehead US | SkipperBud's Marina Del Isle | 73571 | 2023-07-23 | Reduced | 275 days |
| T22CC | 2023 | 22 | Rockport US | Port Harbor Marine - Rockport, ME | 69505 | 2023-06-23 | Reduced | 378 days |
| VR 6 | 2024 | 22 | Louisville US | Sea Ray Of Louisville | 68085 | 2023-09-22 | Active | 129 days |
| VR6 | 2023 | 22 | Cincinnati US | Sea Ray Of Cincinnati | 64705 | 2023-06-01 | Active | 191 days |
| Trophy 22 | 2023 | 22 | Oshkosh US | SkipperBud's Oshkosh | 62626 | 2023-08-07 | Reduced | 434 days |
Sold Comparables
| Model | Year | Length | Location | Broker | Price | Date | Status | On Market |
| --- | --- | --- | --- | --- | --- | --- | --- | --- |
| VR6 Bowrider | 2023 | 22 | Balloch GB | Marine Sales Scotland | 59995 | 2023-06-30 | Probably Sold | 489 days |
Inactive Comparables
| Model | Year | Length | Location | Broker | Price | Date | Status | On Market |
| --- | --- | --- | --- | --- | --- | --- | --- | --- |
| VR6 Outboard | 2023 | 22 | Woodbridge US | Prince William Marina | 0 | 2023-07-31 | Inactive | 360 days |
| VR6 | 2023 | 22 | Cincinnati US | Sea Ray of Cincinnati | 64705 | 2023-07-23 | Inactive | 74 days |
| VR6 | 2023 | 22 | Oshkosh US | SkipperBud's Oshkosh | 65422 | 2023-07-17 | Inactive | 63 days |
| DX 2250 | 2023 | 22 | Austin US | MarineMax Sail & Ski Austin | 0 | 2023-07-16 | Inactive | 116 days |
| T22 CC | 2023 | 22 | Austin US | MarineMax Sail & Ski Austin | 0 | 2023-06-29 | Inactive | 99 days |
| T22 CC | 2023 | 22 | San Antonio US | MarineMax Sail & Ski San Antonio | 0 | 2023-06-24 | Inactive | 94 days |
| Trophy 22 | 2023 | 22 | Pewaukee US | SkipperBud's Pewaukee | 91532 | 2023-06-17 | Inactive | 35 days |
| VR6 | 2023 | 22 | Louisville US | Sea Ray of Louisville | 64390 | 2023-06-15 | Inactive | 242 days |
| VR6 OB | 2023 | 22 | South Portland US | Port Harbor Marine - South Portland, ME | 65980 | 2023-05-03 | Inactive | 90 days |
| VR6 Outboard | 2023 | 22 | Pewaukee US | SkipperBud's Pewaukee | 63161 | 2023-04-30 | Inactive | 45 days |