32' 2014 Monterey 328 Super Sport
Port Saint Lucie US
Sovereign Yacht Sales
Power Gasoline 2
$95,000
On Market:
392 days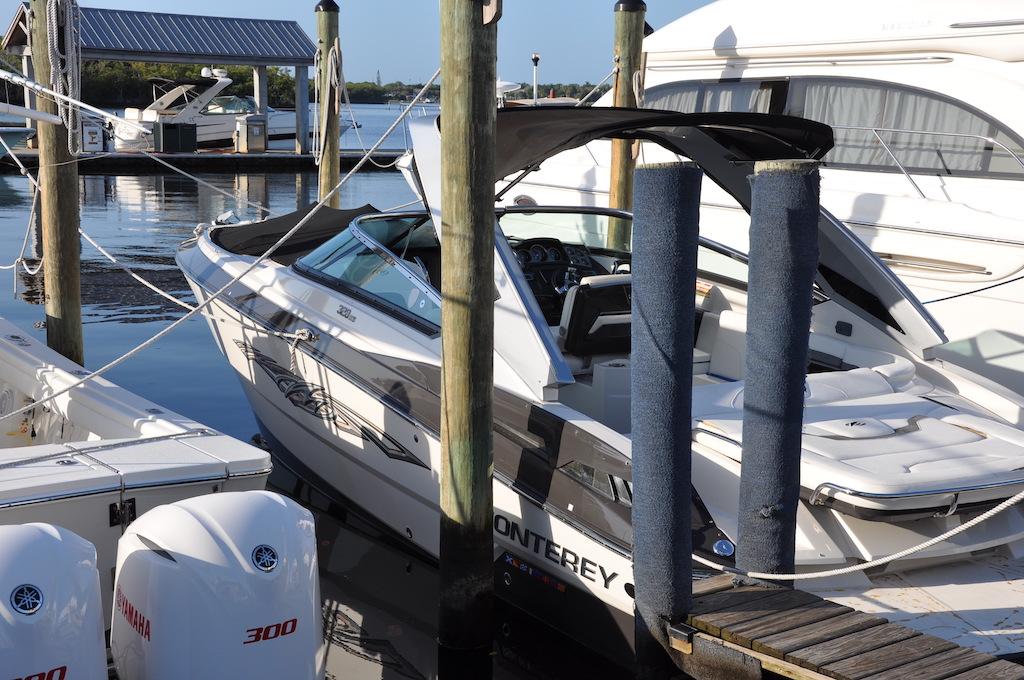 Monterey 328SS 2014 Twin MerCruiser 350 MAG Bravo III with 80 Hours   One owner from new.  Owner in the U.K. Eager to sell.  No time wasters please.   Shows well and very clean. Well equipped, Underwater lights 741 XS Garmin chart plotter. The hull a
Buddha Value
↗ $104,028
Purchase More Information
Consult with the Buddha for $9.99. We have additional information available.
Price History
| Price | Date | Status |
| --- | --- | --- |
| ¤0 | 2022-02-27 | New |
| $154,900 | 2022-02-27 | Active |
| $139,900 | 2022-05-23 | Reduced |
| $139,900 | 2022-06-25 | Reduced |
| $134,900 | 2022-07-31 | Reduced |
| $124,950 | 2022-11-15 | Reduced |
| $109,900 | 2023-01-16 | Reduced |
| $95,000 | 2023-03-16 | Sale Pending |
Active Comparables
| Model | Year | Length | Location | Broker | Price | Date | Status | On Market |
| --- | --- | --- | --- | --- | --- | --- | --- | --- |
| 320 Sport Yacht | 2014 | 32 | Riviera Beach US | Brightwater Yacht Brokers Inc. | $165,000 | 2023-03-19 | Active | 7 days |
| 320 Sport Yacht | 2014 | 32 | Sunny Isles Beach US | My Yacht Sales | $164,240 | 2022-12-30 | Reduced | 343 days |
| 328 Super Sport | 2014 | 32 | Port Saint Lucie US | Sovereign Yacht Sales | $95,000 | 2023-03-16 | Sale Pending | 392 days |
Sold Comparables
| Model | Year | Length | Location | Broker | Price | Date | Status | On Market |
| --- | --- | --- | --- | --- | --- | --- | --- | --- |
| 328 Super Sport | 2015 | 32 | Mattituck NY United States | Strongs Marine | $144,900 | 2021-04-14 | Probably Sold | 150 days |
| 320 Sport Yacht | 2014 | 32 | Jacksonville FL United States | Ocean East Yacht Sales | $149,900 | 2020-08-26 | Probably Sold | 235 days |
| 328 Super Sport | 2013 | 32 | Juno Beach FL United States | Blue Island Yachts | $98,500 | 2020-07-08 | Probably Sold | 102 days |
| 320 Sport Yacht | 2014 | 32 | Toms River NJ United States | Global One Yacht Sales | $174,900 | 2020-07-07 | Probably Sold | 20 days |
| 328 Super Sport | 2013 | 32 | Jupiter FL United States | Reel Deal Yachts | $95,000 | 2020-04-27 | Sold | 185 days |
| 328 Super Sport | 2013 | 32 | CA, United States | Flying Cloud Yachts | $119,000 | 2019-02-08 | Sold | 305 days |
| 320 Sport Yacht | 2014 | 32 | FL, United States | Sundance Marine USA | $165,000 | 2018-12-08 | Sold | 425 days |
| 328 Super Sport | 2014 | 32 | MD, United States | Annapolis Yacht Sales | $99,995 | 2018-11-08 | Sold | 425 days |
| 328 Super Sport | 2015 | 32 | OK, United States | Ugly John's Custom Boats, LLC. | $139,900 | 2018-10-08 | Sold | 547 days |
| 328 Super Sport | 2014 | 32 | FL, United States | Rick Obey & Associates | $124,000 | 2018-08-08 | Sold | 91 days |
Inactive Comparables
| Model | Year | Length | Location | Broker | Price | Date | Status | On Market |
| --- | --- | --- | --- | --- | --- | --- | --- | --- |
| 328 Super Sport | 2015 | 32 | Burnaby CA | M & P Yacht Centre | $220,000 | 2023-03-07 | Inactive | 256 days |
| 328 Super Sport | 2014 | 32 | Clearwater US | Quality Boats | $138,500 | 2022-11-27 | Inactive | 172 days |
| 328 Super Sport | 2013 | 32 | Miami Beach US | All Florida Yacht Sales | $95,000 | 2022-08-25 | Inactive | 181 days |
| 328 Super Sport | 2013 | 32 | Hialeah FL United States | Yacht Brokers South | $106,000 | 2021-02-19 | Inactive | -0 days |
| 328 Super Sport | 2015 | 32 | Mattituck NY United States | Al Grover's High & Dry Marina, Inc | $144,900 | 2021-01-28 | Inactive | 109 days |
| 315 Sy | 2015 | 32 | Norwalk CT United States | Rex Marine Yacht Sales | $150,000 | 2020-12-24 | Inactive | -0 days |
| 328 Super Sport | 2013 | 32 | Norwalk CT United States | Southpaw Yacht Sales | $105,000 | 2020-10-21 | Inactive | -0 days |
| 328ss | 2013 | 32 | Miami, FL, United States | Sunseeker Nautikos Group | $110,000 | 2020-08-13 | Inactive | 489 days |
| 328 Ss | 2013 | 32 | Miami, FL, United States | United Yacht Sales | $74,900 | 2020-07-08 | Inactive | 418 days |
| 328 Super Sport | 2013 | 32 | Syracuse NY United States | KAM Yacht Sales, LLC | $114,000 | 2020-04-27 | Inactive | -0 days |