28' 1979 Topaz 28 Sport Fish
Galveston US
Big D Marine - Galveston
Power Diesel 2
$17,500
On Market:
390 days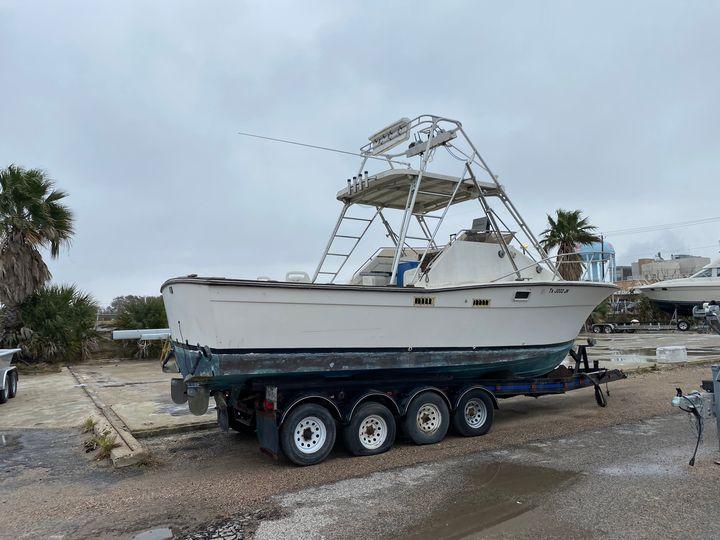 $$$$$$ MUST SELL $$$$$ MUST SELL $$$$$ MUST SELL $$$$$$ Topaz 28ft express . Motors runs.  Great project boat. Set up with a pair of TMD-40A, Volvo diesels 165 hp   This is a pretty nifty little fishing boat. Like all Topaz's, she's styled after the old
Buddha Value
↑ $24,227
Purchase More Information
Consult with the Buddha for $9.99. We have additional information available.
Price History
| Price | Date | Status |
| --- | --- | --- |
| ¤0 | 2022-02-28 | New |
| $37,500 | 2022-02-28 | Active |
| $20,000 | 2022-06-24 | Reduced |
| $20,000 | 2022-07-26 | Reduced |
| $19,995 | 2022-10-03 | Reduced |
| $9,000 | 2022-11-23 | Reduced |
| $24,995 | 2023-01-26 | Increased |
| $17,500 | 2023-03-11 | Reduced |
Active Comparables
| Model | Year | Length | Location | Broker | Price | Date | Status | On Market |
| --- | --- | --- | --- | --- | --- | --- | --- | --- |
| 28 Sport Fish | 1979 | 28 | Galveston US | Big D Marine - Galveston | $17,500 | 2023-03-11 | Reduced | 390 days |
Sold Comparables
| Model | Year | Length | Location | Broker | Price | Date | Status | On Market |
| --- | --- | --- | --- | --- | --- | --- | --- | --- |
| 28 Sportfish Repower | 1979 | 28 | Panama City Beach, FL, United States | Great Southern Yacht Company | $48,500 | 2019-09-04 | Sold | 146 days |
Inactive Comparables
| Model | Year | Length | Location | Broker | Price | Date | Status | On Market |
| --- | --- | --- | --- | --- | --- | --- | --- | --- |
| 28 Makaira Sportfish | 1978 | 28 | New Gretna US | New Jersey Yacht Sales | $29,000 | 2023-02-10 | Inactive | 267 days |
| 28 Sportfish (repowered In 2004!) | 1979 | 28 | Panama City Beach FL United States | Great Southern Yacht Company | $48,500 | 2020-04-27 | Inactive | 103 days |